Find the difference between them and give your best responses!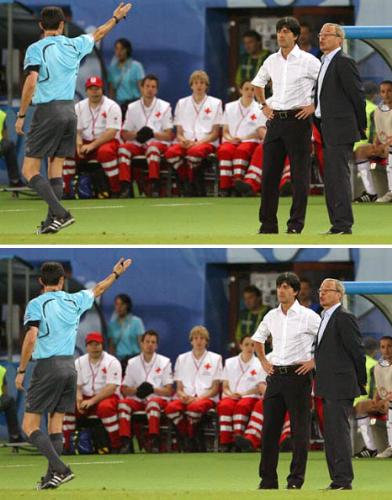 China
June 17, 2008 8:14pm CST
Do you have interest in such things? There is 7 different places between them.can you find them? if you can do or find most place of them.I will give your the best responses! Good lucky!he he
1 response

• Canada
18 Jun 08
#1 The guy in the white shirt standing has a watch on his right wrist and the bottom does not. #2 The guy next to the ref with his arm up has on a red hat with a letter on it. I think it is an "M" the bottom picture does not. #3 Ther is a white line that is infront of the players in red and white and the one one the bottom is partially missing. #4 The door opening is smaller in the top picture and the bottom picture covers more of it.

• China
18 Jun 08
Good for you! You have found 4 different place .that is OK, there is still 3 place left.so I will wait for a monment and then decide which is best! Thanks for your responses!