Extreme hobbie: Horseless carriage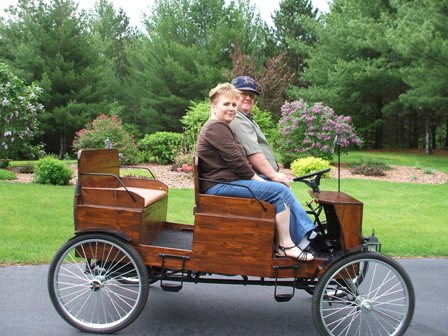 United States
June 17, 2008 8:15pm CST
My best friends husband is retired. The first few years he had tons of things to do as they moved up into the woods and he had to get things in order from the previous owners. This last year he built a horseless carriage. It took him six months and when I visited a couple of weeks ago I got to go for a ride in it. I have tons of hobbies but nothing like this. Do you have an extreme hobby or know someone that does?
5 responses

• India
18 Jun 08
Hi jillhill, Yes i like to ride horse and want to for trekking. And one of my friend does this but my mom say "no" and every time i want to go, iam not able to. I can go but i dont want my mom to worry. Now a days I have to think that whatever we do or going to do will not effect my family. enjoy compromising :)

• China
18 Jun 08
My mother always gathers our old clothes,and makes some other things by using them.for example,she chose some ragged cotton clothes and cut them to many strips,then tied them tightly around the end of a stick with a string,that became a mop.And she also use our old clothes to make pillowslip,schoolbags,and any other things.Is that an extreme hobby?

• United States
25 Jun 08
This horseless carriage is pretty neat. Where is the motor at? Under the seat, I presume? Gas tank under the back seat? I would love to have one of these to ride around town in. Would really turn some heads.