OORAH!!!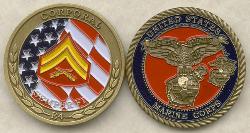 United States
November 3, 2006 1:58am CST
My husband is FINALLY getting promoted MONDAY!!! WOO HOO!!! We've been waiting for this since MAY!!!! The Marine Corps kinda screwed him out of it twice already . . .he deserves this!! I'm so excited and out ball is in 2 weeks so now I get to go with an NCO!!! WOO HOO
6 responses

• United States
30 Jan 07
Glad to hear your husband got a promotion.....Also please thank him for me for serveing our country...Being a miltary family you all don't get the praise than you get......My kids are all connected either have retired or due to retire in a few years........Thanks again........Good Luck

• United States
26 Jan 07
Congrats!! My fiance is about to get promoted to Sgt. I'm really excited!