We did it!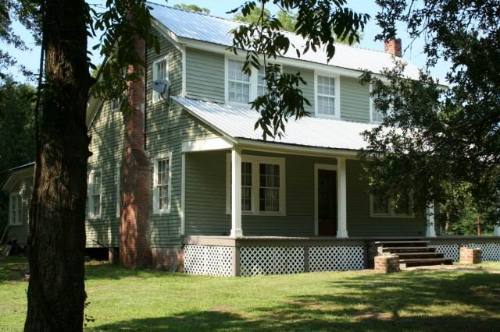 United States
June 18, 2008 3:25pm CST
Do you guys remember my post of several months ago about "the old house"? Well the seller called us back because the home still hadn't sold with an offer we couldn't refuse. We signed a purchase agreement and have a deposit down on the house. We are waiting until July to finalize paperwork. I'm so excited...I love this old house. I hope I'm not disappointed once we finally get to move in!! Posting a picture for all the new comers:)
9 responses

• United States
19 Jun 08
Weren't you going to have some driving issues if you got this house? I was thinking that you had quite a commute, but that could be another friend. I am glad that you are able to get such a nice house at a price you like. It must have been meant to be. Have fun with your move.

• United States
19 Jun 08
Yep, but my husband decided it wouldn't be too bad leaving the State unit at his mothers house and taking it from there to work. It's a give and take situation. We both loved the house and thought it would be a great place to retire. I only have a couple more years before I retire so the driving won't be bad for a couple of years. Time flies as you get older..haha! We will also stay in current home during the week while we remodel to help with the commute since gas prices are so high.

• United States
19 Jun 08
You have planned it out carefully, and I think that is why you are going to be successful.

• United States
21 Jun 08
Oh Karen! You've just given me new hope that good things can happen to good people! I am so happy for you, I know you really wanted that house. I can't wait to hear more about it once you get moved in and learn more. It's a beautiful home!

• United States
21 Jun 08
I'm not looking forward to two notes but we will just have to get on with remodeling this house so we can move it as soon as possible! I've been trying to clean out the kid's rooms...all three have moved out, well I now have one back home so it's been really fun trying to get them to take their stuff or else face it going to trash!

• India
19 Jun 08
Congrats my friend. I like your house in that photo. Also i wish you good prosperous life in your new house. Home sweet home. Thanks.

• United States
19 Jun 08
Congrats on buying the house. Its so great to own a house. You can make changes and not have to ask a landlord, if you can change it. The joy of walking around the house and knowing its yours. I'm so glad to hear your news.

• United States
19 Jun 08
That is so exciting! I can't even begin to tell you how happy I am for you and your family. I replied to this post via an email so, I can't see the picture yet but I will see it once I hit submit and then I will comment on the picture. Good luck to you with your new house!

• United States
19 Jun 08
Fantastic Karen. Congrats hon.

• United States
19 Jun 08
Oh wow..I most certainly do remember your discussion about this house...this is the old one built during the Civil War days wasn't it? Glad you finally got it!! Congrats!!


• United States
19 Jun 08
That's great news! Congratulations! I hope your "new" house is everything you hope it is.....and more! :)

• San Marcos, Texas
19 Jun 08
Kareng..looks like my type of house so if you change your mind..it mine..LOL... Congrats on getting it!