Is it safe to have CAT as a pet when a 2-1/2-year-old kid is at home?

India
June 19, 2008 6:01am CST
I like cats but have not got one since my mom says that it is not good to have a cat (she does not say "no" for a dog though) around when my kid is so young that it might cause some health problems when she starts playing with them...i know many of you have cats at home, i would like to know your view on this before making a decision?
5 responses

• United States
19 Jun 08
I would not get a little kitten that can't escape from the child's clutches. But an older one - say 6-9 months would be safe. When my sister was a baby we had a cat. He was really good with her and taught her not to pull tails and fur without hurting her. So, I do think a nice, laid back, young cat would be fine. It is know that if there are pets in the house, children have fewer illness later.

• India
19 Jun 08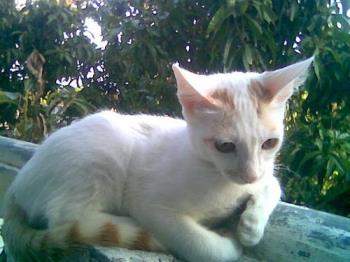 Hi sharay, I seem to be answering many of your discussions. Yes it is true that some kids develop health problems if a cat or a dog is around the house. But from personal experience i can say We have had a cat since i was a small kid and i did not have any problems at all.

• United States
19 Jun 08
I have always had cats, even though I also have small kids. My son is 15 months now and my daughter is 8. They have never experienced health issues by being around the cats. I do know that it is not recommended to have kittens if you have kids under 2 or 3 because they are susceptible to getting "cat scratch fever" (yes, it's a real disease). As far as hair in their mouths, they probably will. Heck, I get cat hair in my mouth. Is it going to hurt them? Probably not. Why don't you talk with a vet and/or your child's doctor and see what they say?

• United States
19 Jun 08
If your mom is worried about the health of the child, she shouldn't be. Unless the child has allergies to cats, it shouldn't be a problem. I would actually worry about the cat getting hurt by the child, especially if it is a kitten or a mellow breed like a Ragdoll. My mom's Ragdoll used to love being held until a child squeezed her too hard. Ever since then, she didn't like anyone to hold her.

• India
19 Jun 08
yeah..once my daughter happened to get hold of a cat in my aunt's house, we all felt so sorry for the cat, she couldnt handle it well, she was just squeezing it and not letting it to go inspite the cats scratch in her hands...she loves pets and insects so much

• United States
28 Jun 08
We just got a kitten and my son who is 4 and my daughter who is almost 3 likes to hold her alot.I have to tell them to put her down at times or watch to ake sure they dont hurt the poor thing.LOL.As they dont understand how to hold her right now.I caught my daughter with the cat wrapped up in a towel in her arms and my son with a pretend stethoscope I guess playing vet.LOL.I think you just have to be careful and watch you kids when the cat is around .My sister-n-law had a cat when her 2 daughters were born (of course he is a adult cat)but if they pick on him e will run away or meow at them which means to leave him alone and if they dont he will bite them as he is declawed in the front paws.But He never of course hurt the her kids.