Does anyone know what this flower it?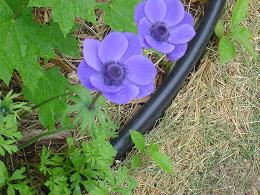 United States
6 responses

• United States
22 Jun 08
Drannhh is correct. This is an anemone. They are a nice looking flower especially if there is a lot in a clump with something to utilize the texture. It is an easy one.

• United States
22 Jun 08
It only lasted a couple of days but hopefully it spread some seeds and I'll have more next year! They are so beautiful and I love the color!

• United States
30 Jun 08
drannhh is correct. It will take much longer with seeds. They may also need statification to germinate the seeds.


• United States
20 Jun 08
That picture looks like the flowers on my orchid! I hope the little flowers come up next year, I was delighted when I saw the first one! It was in my yard when I was mowing and I went around it. When I was done, I got scissors and trimmed the grass around it so that I wouldn't destroy it.


• United States
30 Jun 08
Yes, I expect the beautiful flower will come up again and again as it is a perennial (meaning that it grows back from its root stock as opposed to seeding) and here is a page you might enjoy that discusses propagating them: http://www.plantingflowerbulbs.com/anemone-flowers.htm This will help in case you want to transplant your anemone, as the type of "root" it has, whether rhizome or tuber or fibrous root makes a difference in how to handle it. Anemones are one of the most beautiful easy to grow plants around and are considered by some to be invasive, in the sense of a pest, but I cannot agree with that at all, because I just love them, the more the better! Thanks for the BR :-)

• United States
19 Jun 08
you could be right about it being a type of daisy, it also looks something like a the little violet plants that pop up all over, without seeing it up close i can not make a decision. i don,t think it looks like a weed though, it is really pretty. happy gardening!

• United States
20 Jun 08
It did remind me, by the color, of my violet plant inside the house but it looked so soft and velvety I love this flower!


• Singapore
30 Jun 08
this IS very beautiful! unique petals and gorgeous colour. now if only I had weeds like this I wouldn't need to plant any seeds or real flowers. I don't think it's a daisy though. the shape and layout of the petals don't seem daisy like. initially i thought it might be a morning glory, but perhaps it's some african violet.


• Philippines
26 Jun 08
wow that's cute. i wish weeds in our country are also like that. for me, weeds in our country was ugly, it doesn't have any flowers on it at all. or is it only in our place?