The pen USB inflates as they enter data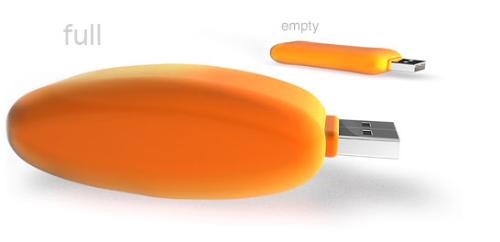 Italy
June 19, 2008 3:42pm CST
Il awaiting patent this gadget really curious. It's called FlashBag an is a USB stick to store data that has a special respect to all present on the market so far. Indeed, to report the lowest ever reduced storace capacity, more data are embedded in the pen, the more it inflates. State quiet is not fruit of my imagination, here's where I found it http://www.plusminus.ru/flahbag.html. Frankly I do not understand that this may utility gadget, apart from curiosity, in this era where everyone wants to have increasing storage capacity in less space aas possible. But I think it can be fun.
4 responses


• United States
21 Jun 08
That's a very strange gadget! At least it can't blow up.

• Canada
18 Jul 08
They did not say the maximum capacity of it. I would think that most of the inflation is a bunch of hot air. I have two flash drives that are exactly the same size but one holds 4 gig and the other 8 gigs, it is just that one is maybe compressed better. I cannot see this inflatable being any good since the rubber or whatever you use might split or you may cut it if you have some needles lying in your purse. It would be good for a gag though.

• Italy
18 Jul 08
unfortunately this gadget is still in draft in not stated what capacity.