do you like cleaning house

China
11 responses

• United States
21 Jun 08
As long as your house isn't a health hazard I don't see anything wrong in what your doing. Not everyones priorities are the same. I remember when my sister and I got married and started our families, I was more like our mom. I had to have everything so so. Her house had the 'lived in look'. Why? Because she was out doing stuff with her two little kids. They were fishing, walking the trails, messing with their multitude of pets. My sister still isn't into housekeeping, now she's hanging out with her grandchildren. I'm not as big on housekeeping as I once was.


• China
22 Jun 08
have the same feeling.in fact,every day i have a lot of housework to do.when i back home from work.first cook dinner,then do washing dishes and clean kitchen.teaching my son do homework,help him take a shower.the whole night almost gone.

• United States
21 Jun 08
I love cleaning my house because I love a clean house. Everyone who comes into my house always says that I must clean all the time. I don't. But cleaning is one of my priorities. I absolutely cannot stand to go into someone's dirty house. It actually makes me sick. I'm not talking about a little clutter, but about an actual filthy house...toilets and sink not clean, dust balls and dirt in the floor and OMG...bugs everywhere! I can't stand dirty dishes lying around, either...or food left open on the table or countertop. I don't have a certain "cleaning" day, I clean as I go for the most part. It's easy to have a clean house if you do that.

• China
22 Jun 08
if i want keep my house being clean,i must do clean every minute when my son stay at home.he has a bad habit.throwing things everywhere in the house.like drawing things from drawer then throw on the floor.scattered around the house.it's awful.but i must go to work, just clean in the evening.


• China
22 Jun 08
yeah,i just have one day off work.it's weekends.i usually clean on weekends.weekends is a busy day to me.i must go to market to buy good food.cooking.cleaning.i feel tired on this holiday.

• Philippines
21 Jun 08
I am not fond of always cleaning the house, but there are times when I feel an urge to do housecleaning all day and this sometimes extends for a number of days. Nonetheless, I do am not fond of cleaning the house because of my allergic rhinitis. When i do dusting of stuffs inside my house, some dust usually manage to enters my nose; consequently, i sneeze a lot and it is hard for me to stop it. It is a very unpleasant experience every time my allergy attacks.

• China
22 Jun 08
hi,jmlcabular. in the light of what you said. your home must have a lot of dust.hehe.i can't believe it.

• Philippines
21 Jun 08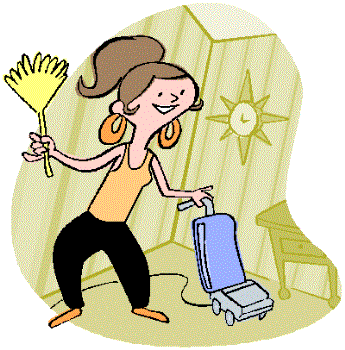 I like cleaning my house
.... I can't stand to see things not it their proper places, dust accumulating in shelves, toys scattered around the house...

this just make s me crazy. I clean every morning and finish what I haven't done later in the afternoon. Seeing a clean house or room makes me feel light and happy


• China
22 Jun 08
you are really a good woman.i have a sister like you.she like cleaning her house.in fact.i will be happy when i see my home being orderly and clean.but i can't keep this long time.my son immediately distroy what i have done for house.i have no idea with him.he like to throw things everywhere in the house.


• United States
24 Jun 08
I AGREE. I am lazy too. It is partially because I hate repeatedly cleaning up after my two children. So I just wait until the mess in unbearable, THEN I clean it up....which is about 3 times a day....but it's really good now because my mom lives with me and she is a clean freak and a great cook...but after all those years she was not in my life, she owes me this break!

• Singapore
24 Jun 08
i too am a lazy person. how i dislike housework and i won't admit that it's sparkly clean and all. it's average you could say with dust collecting in nooks and cranny. hehe i too like to do what i like to do. even if i'm really free the whole day with nothing to do, i'm guilty of not doing housework. instead, i'll either be on the internet or watching tv. of course, this is only when my hubby is not at home. if not, it's normal. hehe

• China
22 Jun 08
:) personally, nobody loves cleaning or doing the house stuff, for me, i don't like it but i feel it's my responsibility to do that, coz my wife got a buzy job, she got no time to clean our apartment, and i have more free time, so it's my job to make our rooms tidy and clean.