Birthdays... Just a formality or still fun?????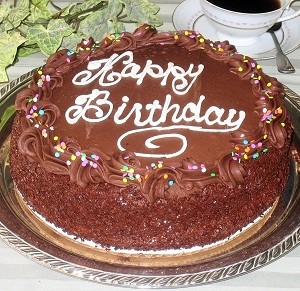 United States
June 23, 2008 9:00pm CST
When we were kids our birthdays were the best days of the year, and we started counting down until our next one. As w get older, we start dreading the day, and wanting time to stand still so w don't get any older. Do you think there comes a time, or certain age that birthdays just become formailities, since everyone has one each year and it starts to feel like just another day? Do you get excited about your birthday still? If so, do you make a big fuss for your day or you just treat it like it is any other day?
10 responses

• United States
28 Jun 08
I get excited so that my kids will still know its fun to watch mom and dad get older. We buy gifts, go out to dinner, (especially at a place that will sing to us) and we treat it as a special day. My birthday is in April and we call it the month of dad.

• China
28 Jun 08
oh,i like birthday.but i do not make a big fuss for my birthday.Lots of people here around me take birthday as a very important thing. When i was a kid,i just couldn't remember my birthday,because i never received gifts and cards. Because of that reason,i like my birthday,but won't pay attention on it.

• Mexico
28 Jun 08
Well, it's not so much my birthday that worries me, but the fact that the older I get, the faster time seems to run, and I'm only 49 !!! I've heard it said that the end of middle-age is the old-age of youth and the youth of old age - does it make any sense? It does to me, and would you believe it, I'm beginning to prepare for old age. As far as birthdays are concerned, I have two boys, 12 and 13 years old, and their birthdays deinitely are occasions to celebrate.

• Philippines
25 Jun 08
there are some birthdays that really mark you're status in a society, like a debut. But other times, it just feels like any other days... But, it's really touching when people remember your birhtdays. SAying "happy birhtday" is like a rough equivalent of, "I'm happy you were born this day some years ago, or i wouldn't be able to be a part of you". I don't really get excited much to birthdays anymore, but i really do melt when i'm greeted, personally or online. And mom never forget to give me something special for that day. Somehow it's not a "birhtday" anymore, it's "My Day".

• China
25 Jun 08
When I was young, birthday to me is a good. I can play with my friend whole day, and can eat birthday cake, I like cake. But now I 'm to old to control my life, I can play when I want, and I can eat cake when I want. So birthday to me don't have any special meaning except I 've born this day. As I grow older and older, birthday means I get one year older.

• United States
25 Jun 08
Nobody in my family really makes a big deal out of mine but always expects me to make a big deal of thiers.i spent alot of money on my dads this past June,i know it's not about money,my daughter made me a card and i love it more than any card she could have bought,my parents just took me out to eat,I would love to have a party or least a cake and a wrapped present.i know it isn't much but the little things sometime do matter.

•
24 Jun 08
I used to love my birthdays so much and would always make a big thing out of them. I would remind anyone who would listen how many days it was til my birthday. I would always make sure I had a cake too. But that all stopped a couple of years ago, a lot of things happened in my life and I just lost so much enjoyment for things, I think that I will get it all back one day but it just takes time.

• United States
24 Jun 08
I like to make birthdays special days, no matter what the age. It's your only very special day that is all yours. I do make a big fuss over birthdays. My kids dread their birthdays because I always seem to embarrass them with all the attention. But it's fun! It's a chance to celebrate. I love making big to-do's over things like that. It makes life less boring. I guess I don't mind seeing my birthday come around because once I hit 40, I started counting backwards. The way I figured it, by the time I'm one again I'll be the same as I was the first time... toothless, drooling and wearing diapers.


• United States
24 Jun 08
I love my birthday! I think all people should :-) I like to look at my birthday like it is a new year for me personally! I get these daily emails from Rev Run- Daily Word and one of my favorites is his birthday comment... How do you deal with getting old? Birthdays are a time of reflection, dont dwell on the life you left behing, appreciate the life that is in front of you. Be present in the future , love for today and never look back.

•
24 Jun 08
I love birthdays because it is the one time I can choose where to go out for the day or what restaurant without evreyone being indecisive!! lol I just pick and then it's sorted and also I love that one day where you can feel all pampered and not feel guilty that everyone is looking after you!! Plus I love birthday get togethers and parties so I can never see myself getting bored of them!