Can you introduce your CULTURE in brief?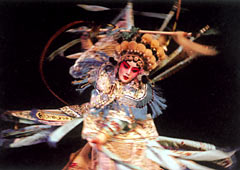 Malaysia
June 23, 2008 11:43pm CST
Culture is the way of life for an entire society. It includes music, literature lifestyles, food, painting, sculpture and similar things.In a broad sense, it indicates all human activities such as religion, philosophy, moral standards,laws, politics,economics... Can you introduce your culture in brief, so that we can understand it.
1 response

• Malaysia
27 Jun 08
Okay, as you can see, I'm from Malaysia:) Here, we have different religion. Chinese, Malay, Indian, And foreigns. Even Vietnam

Well, here, we have plenty fruits example Durian. King of fruits. Have you taste it before? It's okay, I'll give you a link. Have a look at it:) - http://www.nealford.com/images/durian.jpg That's Durian. Well, some people may like it, some people don't. Well, for me, I just eat it whenever i feel like eating it:D Haha. We can cook Durian too! We cook tempoyak - ( it's a bit spicy ) It's nice tho! - http://ncc.blogsome.com/images/TempoyakBahanSambaldanTeriMedan.jpg For foods, the famous food is Nasi Lemak. It's kinda spicy. But i like spicy. Yumyum! IF you come here, try taste it:) It came differently. We can eat only eat the rice, cucumber, egg, and dried anchovies. Not to forget, our spicy sauce! But we also can eat it with Chicken, squid, beef, and many more. Here's nasik lemak - http://bp0.blogger.com/_k1tfqRO2sBU/R4okWB7MMGI/AAAAAAAAAQE/VgeimwhRa6U/s1600/btbt%2B006.jpg While this, Nasik lemak with chicken - http://farm1.static.flickr.com/213/450014899_b1ca88e892.jpg?v=0 It's delicious. I don't lie;) Others, And we also have Sambal belacan! It's really spicy, but i love it! - http://bp1.blogger.com/_-mM1tCGXqhE/RfrEHQhcn_I/AAAAAAAAAUA/6zLiYUvc_vE/s1600-h/DSC00066.JPG We also have Petai! - http://danesh.files.wordpress.com/2007/07/petai_before_halved.jpg We can cook it with tempoyak or spicy sauce! Here's with tempoyak - http://bp0.blogger.com/_bccBkRxK6iY/R71U7AV9oQI/AAAAAAAAAvE/Ys6vUsEdCSI/s1600-h/gulai-tempoyak.JPG And here's with spicy sauce - http://i120.photobucket.com/albums/o182/resipidiana/BLOG%20RESIPI%20DIANA/SambalUdangPetai.jpg We always add with prawn! Nicee. When it comes to festival, HARI RAYA, we have Rendang ayam ( rendang chicken ) - http://bp0.blogger.com/_BIl73NybE9w/Rtq6FkFCScI/AAAAAAAACQY/pZcEQ09uv7k/s1600/DSC00919.JPG I tell you, it's the bomb! And we have Lontong, - http://www.malaysiagoodies.com/images/goodies/lontong1.gif We eat it with rendang chicken, Kuah kacang ( I don't know how to translate in English, Sorry but i'll show you ) This is kuah kacang - http://i168.photobucket.com/albums/u178/mamaera_photos/DSCF6343.jpg And lemang is delicious! - http://bp3.blogger.com/_lUDxA2DYOfs/RywunH_BAkI/AAAAAAAAArw/0S9Q0C40s8E/s1600/Lemang.JPG And more more more! Haha, you should come;) Okay, places! You have to visit, KLCC - Kuala Lumpur Convention Center:D - http://klcc.stsite.com/image/twintower.jpg It's the most attractive building in here! You must visit KLCC if you come here. And come visit our national museum - http://bp2.blogger.com/_sEyw6txVACs/RxMvhsUPT3I/AAAAAAAAA0g/e2UV_RNU9vU/s1600/muzium%2Bnegara%2Bsuperciliousness.jpg And Aquaria Klcc! - http://www.cuti.com.my/Sub/Kl/kuala_lumpur_aquaria_klcc.jpg Come come;) Also we got TUGU NEGARA - the National Monument, - http://www.asiaexplorers.com/malaysia/kualalumpur/nationalmonument/00.jpg And much more. Seriously you have to come here and visit these come cool places

Well, what you need to know more? Haha, just ask me:) I hope you enjoy reading my responses! Check out those pictures:)

• Malaysia
27 Jun 08
Thanks. YOu are a person of promise. I will mark you BR.

Happy mylotting.