A way to shut down your computer. Hope it will be helpful!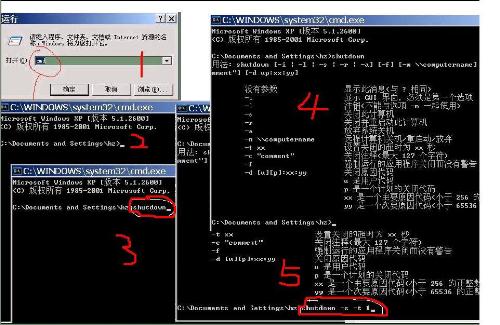 China
June 24, 2008 12:26am CST
Recently I have trouble in shutting down my computer in the normal way. I don't know the reason. I had to shut down my computer by pushing the turn-on button for a few seconds. But yesterday one of my friends told me another way. This way will do less harm to the computer.This is how: 1. click the "start" button as you normally do; 2. choose the "run (R)" operation and it will pop up a dialog box like "1" in the picture below. Make sure the command is "cmd" and then click the "OK" button. 3. then another dialog box will pop up, see "2" in the picture below. 4. enter the command "shutdown" in the "2" like I did in the "3" and then press "enter" button on your keyboard. 5. you will get another dialog box like the one "4" in the picture. 6. enter the command "shutdown -s -t 1" in the "4" like I did in the "5" and then press "enter" button on your keyboard and your computer will get turned off. There is another pop up dialog box but just forget it. (Note: The number "1" in the command "shutdown -s -t 1" means how soon your computer will be shut down. So, you can choose the time. "1" means your computer will be shut down in 1 second. ) Hope it will be helpful for you.
4 responses


• China
24 Jun 08
I don't know the reason. I have applied the anti-virus software Symantec AntiVirus but it didn't work at all. And someone told me that maybe because I have set up some software which caused the problem. And from his words I learned that the best way to solve the problem was to apply the "ghost" process which would cause me a lot of time and I don't want to trouble myself by doing so. So I chose this way to shutdown my computer.

• China
25 Jun 08
No, I have never tried to use system restore in Windows itself. And the reason is that I don't know there is this way. Can you teache me how to do it? I am so happy that I can learn a lot about computers from you kind guys.


• Indonesia
25 Jun 08
yeah..its DOS command for shutdown ur computer manually,sometimes it works when ur windows have problems on it.Just for share...if ur windows/pc hang or get freeze dont push reset button,all u have to do is unplugged ur cable power n it will not damage ur HDD.

• China
25 Jun 08
:) To be honest, I didn't think of this way of shutting down the computer by unplugging my cable power. I learned this way when I was in the middle school but I have totally forgotten it. :)Thank you for reminding me of it. And thank you for your kind suggestions. Good day to you!

• Indonesia
27 Jun 08
as my experience with hardware course..unplugging cable power is the best way coz ur hdd will not have any electrical effect at all

• United States
30 Jun 08
I must admit that I have been of late having the same problem with the computer sometimes refusing to close and I think it has something to do with a screen saver/background that I downloaded. It is beautiful so I do not want to delete it but the problem of the computer not shutting down appropropriately was difficult. If it does this now, I just go to the surge protector and turn off the switch and kill the power going to the computer and then turn it back on and turn on both the computer and the monitor. This seems to work well. I am hoping that there are no problems that can be caused by this method.


• India
24 Jun 08
well even i face such a problem in my computer. i can tell you that it is a very bad way to shut down the computer in such a manner. it means more chances of your HDD getting problematic. so i think it is better that you find the problem. most of the time i do that by formatting the computer.

• China
25 Jun 08
Actually I don't know much about computer. I just learn something every time my computer goes wrong. I got this way of shutting down from one of my friend and he is not by my side. So he can not help me to find out the problem. But can you tell me how to format the computer? Thank you in advance. I think I can learn it quickly.

• India
11 Jul 08
well the thing is I have understood one thing that it is better if you do not fidget with the default settings of Windows if you don't know the consequences of them. So I think this is something which I will not try until and unless I did good information about the same. There was a time when I used to do a lot of things and got into a lot of trouble. That time I had ample of time to a format my computer so I was not much worried about that. But now I don't have that much time and if something goes wrong then I have again go through all the procedures and so I will try to avoid the step of small settings and.