How many cats you have in your home?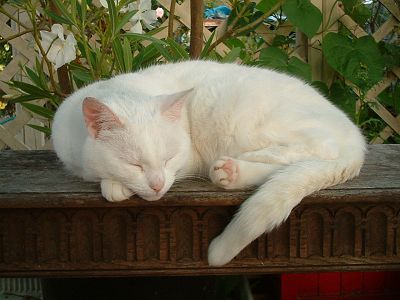 India
7 responses

• Egypt
26 Jun 08
no cat, I'm very afraid of cats.

• India
26 Jun 08
My mother in law likes cats very much. It seems she has been acquainted with them since her child hood. Previously i was used to only dog as pet. I came to my in laws house and got used to cats. Now we have one female cat called pinky and she gives birth once in six months. She is very sweet but pale because of reproducing. I feel sad

for her, as one male cat is always running after her!

Happy Posting!


• Latvia
26 Jun 08
i have one cat. It's name is Paganini (yes , the great violinist :D ) 6 cats ? oo , it's awesome . Now you have 6 friends :) best friends ever. congratz

• United States
26 Jun 08
hi abruzzi10 What are they names? do you have one that is more attached to you? How are their personalities?


• United States
28 Jun 08
i think if i told u how many cats we have here u would laugh.we have 9 cats here right now.and my dad has a house in pa which he goes to every weekend and he has 7 there.my dad does not like to turn a stray away and eventually they become part of our family.thankfully we never that many strays.

• United States
28 Jun 08
We love cats also but we only have one. His name is Wilbur. He is solid white like the one in the picture you have posted lying on a fence. :) We have had him for almost six years now and love him dearly!! :)

• United States
26 Jun 08
Hi vimaal, I love cats, right now I have four. Kitty and Jr. (mother and son) peewee, found him in my yard, and charlie, she belongs to my mom. Now there are three more to come by to eat. We named her Smokie, she just had her babies and didn't know where she had them. i kept feeding her making sure that she leave and go feed her babies. On monday I went outside around 9am and notice that there were 2 kittens. It turns out the Smokie brought her babies the house to feed them. They are now leaving under the house. The only thing I have to worry about is that my mother (I take care of her) does not notice them right away. I feed first thing in the morning and give them a good night meal at night. Dry food mixed with wet food and milk. This keeps them filled up until the next morning. And yes they are very cute.