At least another month off work.....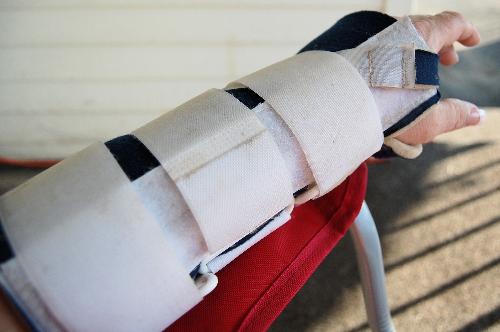 United States
June 27, 2008 7:04am CST
As some of you know, I was put on medical leave when I was injured at work in April. The 'panel' doctor I went to through work, never saw the xrays taken at the hospital from the day it happened, he has had me going to occupational therapy 3 times a week until this week. And he had an MRI done, but they said everything was 'normal'. Three weeks ago his office set up an appointment for me to go see a specialist, which my appointment was yesterday evening. They took their own xrays there, and I took the ones from the hospital and the MRI results and films with me. Now for two months I have had pain in my left wrist, and swelling from time to time, but the panel doctor, 'didn't see any swelling' and hasn't really done anything. The specialist took one look at the xrays his office did, and said 'there's a problem'! He looked at the xrays from April from the hospital and said 'they couldn't see that'! And as for the MRI results, when he read them, he said 'no, that's not normal'! He has now ordered another MRI, at a different place, and this time they will shoot some kind of dye into it, and he told me when that confirms what he knows, we can 'fix' it and begin treatment! Not sure if that means surgery or not just yet. So, why didn't the panel doctor send me to this specialist 2 months ago? Have no clue. So, with the new MRI to be done and back to see the specialist August 5th, I will have been on medical leave over 3 months! It's driving me crazy not being able to work! But, I am a wildland firefighter, and even though we take safety very seriously, accidents happen. And they put me on medical leave (I didn't request it) because there was no light duty work for me to do. I also don't know if going through occupational therapy has done more damage then was already there, but my new instructions are NO use of that wrist, and no therapy. I would try to explain what the problem is, but hard to do without showing! lol
4 responses

• United States
27 Jun 08
Aww man, I wanted a show and tell. hahaha That is really weird when one doctor can see what other's can't or don't want to see. Not sure if the PT did more harm but at least you know it didn't do any good and don't have to mess with that again. By the time you are released to go back to work it will be time to take the season off. Hope this one can figure out something but it seems like he will. Be a good girl and do what the doctor says to do and don't over do it, I know you and I do know you will use the wrist to some extent.

• United States
27 Jun 08
Who me???? try to use it, nawwww lol. I'll behave, and you're right I might get to work a month or two before we're off for this season! Yeah, the first doctor never even laid his eyes on the xrays the hospital took in the first place. And to think that the MRI people didn't know what they were looking at, kinda scary about the care around here, well not just here. I know you were wanting a show and tell, but..........LOL not sure anyone else here would want to see that lol

• United States
27 Jun 08
hahaha, I have been told I can have a sense of humor! lol And I think I met my match on that one, DW can put humor into any situation. So if I had his assistance, I'm sure it would be a very entertaining show and tell LOL


• United States
27 Jun 08
It sounds like the panel doctor simply blew you off and ordered the standard occupational therapy. IMO he's guilty of neglect at the very least and malpractice at the most, depending on what the specialist is able to do for you. Since he doesn't want you using that wrist at all I would imagine that the therapy wasn't a good idea but it's a good sign that he's confident that he can fix it. Hang in there!

• United States
27 Jun 08
Thanks, I am glad I am under the care of a very competent doctor now. And yes depending on the outcome of this, and getting back to work, you are right, there very well may be a lawsuit.

• United States
27 Jun 08
YIKES! My sister fell off a horse when she was in 12th grade. She broke and dislocated her wrist and was in a cast for MONTHS, from the end of March until the middle of July. Even after that she had to use a splint for the rest of summer to do any kind of work with it. And that was just because the wrist doesn't heal well of fast.

• United States
27 Jun 08
The last time I was in a cast was my right foot, and it was for 6 months! By the time this is over and done I'm sure I will have had this splint on for 4 or 5 months, at the least. I don't care if I have to tape it or something the rest of my life, I just want to get back to work lol

• United States
27 Jun 08
When my sister fell the following year she broke her foot and the doctor told her that she broke another hard to heal bone. She told him that the cast was coming off in 6 weeks because she was going to Japan in 7. He only agreed if she got some really good lace up shoes.

• United States
28 Jun 08
so sorry to hear this happen to you. I hope you find the time to rest at home and visit mylot more. Hehee. The first doctor needs to be he/she is wrong. If they did not see it and your other doctor saw something, then this is a neglect. it is difficult now that you cannot even trust doctors and need second opinion all the time to make sure the doctors are looking out for the best interest of your health. good luck and hope you recover soon.

• United States
30 Jun 08
Thank you for the well wishes. That is true, it's a sad state of affairs when we can't even trust a doctor. The main part of neglect on the first doctor's part was that he never even saw the initial xrays that were taken at the hospital the day that I had the injury! And that the one's reading the xrays and MRI results said everything was fine, and it was 'normal'. Of course, when you think about it, half the doctors graduated in the bottom half of their class, and what do you call the one that graduated at the very bottom of the class?.......answer:Doctor.