after graduating your college, did you found a job easily?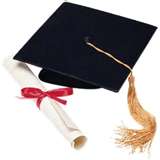 Philippines
June 28, 2008 7:14am CST
In our society today, children are required by most of the parents to study. For students like me, i understand that education is really important because it will increase my knowledge and versatility n doing things. But as what i see in our society today, most of the degree holders does not have jobs. How about you? Did you found job easily after graduating college?
6 responses

•
29 Jun 08
i think getting jobs or promotions are totally dependent on your luck . i have seen that few of my seniors who are not that much good in studies are at good posts and earning good jigs but few of those who have got good gpa are still jobless and trying harder for good jobs.but if u have passed your college with flying colours then no one can stop you u to touch the hights of glory

•
29 Jun 08
In the current scenario of high competition, it is diff to get jobs easily, unless you are able to convince the employer well.... We need to train ourselves with special skills that can earn us a job at that particular juncture...

• Indonesia
28 Jun 08
not really. i have to wait for 6 months before i get my first job. during the jobless time, i take certain courses to improve my skills and knowledge. it's always useful to take additional education or course beside your formal education.

• Canada
28 Jun 08
No, not that easy for me. 13 years ago, when I graduated from the University, it took me more than 2 months to get the first job. I sent a lot of CVs and did some interviews. But it was hard with no experience. After I got my first job, I took care of my chance and worked in that company for 7years.


• India
28 Jun 08
Yes I did. After completing my degree I was selected as a trainee in a reputed organisation and after that I got confirmation in that job.