Anger or Persuasion......Which Do You Use?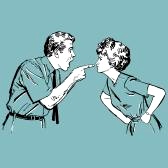 Philippines
June 29, 2008 2:02am CST
My question to you is this
.....Does anger get your point across better than calmly discussing something? Do you use passion or persuasion? Love or hate? For me, it's a pretty easy answer. Anger accomplishes nothing. When anger takes over, it encompasses your mind. I know every once in a while, you need to rave and rant to let some steam off

. I've done it myself, many times.

It gives me momentary satisfaction, but defeats my whole purpose of getting my message across.
5 responses

• United States
29 Jun 08
whe every one is hollering all at once very hard to get over a point I wait til they all shut up then Holler at them lol finally they listen and it seems like we dont holler it never gets across specially when they are acting smart and trying no to listen

• United States
1 Jul 08
Actually negotiation works for me and the hubby? When we do not agree, we get out 3 pieces of paper. On one he write everythng he wants. On another I do the same. Then we sit together, switxh papers and look at what the other person wants. Then we negotiate things out, so we both get a part of what we want, but no one gets everything! It doesn't take more than a few minutes to do and it's worth feeling like we are working as a teem. Has worked 25 years for us! Avoids a lot of hassles and arguments! Give it a try! You usually both come out of it with a big HUG!

• Philippines
4 Jul 08
Hmmm, you have me thinking there for a second. Maybe i could try this... if I'm still in a good state of mind..

. What if my list is longer than my hubby??? Just have to be positive on this one, i guess.. Thanks for sharing this tip. if it lasted you 25 years , I should give it a try then...


• United States
29 Jun 08
i persuade till people change their minds and choose what i want

• India
29 Jun 08
Well i have agree with you, but i cant deny the fact that, i sit down and talk to him about some issue, he is like, okay i 'll consider it, no matter how important the situation might be, but as usual he delays, and im all screaming and shouting, and at once the work is done, its a repeated thing.

• Canada
23 Jul 08
I ever use ager to get my point across. Sure anger motivates me, but only o think. I wat to be in control of my anger so my anger doesn't control me. Anger forces me to take stock of a situation and control myself, so that I won't say or do something stupid that will only make the situation worse. If more people took anger as the warning sign I do, there would be a lot less stupidity in the world.