The New Age Of Cosmetic Teeth

United States
June 29, 2008 7:25am CST
Everyone loves to have a beautiful smile, but that is not always possible, due to high dental cost or lack of dental insurance. I saw an ad on the internet the other day about cosmetic teeth. My goodness they look so real! I also had to wonder if many stars today are wearing these cosmetic teeth, because their teeth just look to perfect. So I wondered has anyone here on mylot or someone you know ever tried out cosmetic teeth? The site I was looking at was called Imako Cosmetic Teeth. You can buy one of their kits for around $50.00, imagine that, having a set of beautiful teeth in about a 1/2 hour. What will they think of next? I think it is a great idea for people if they really work and it's not a scam like everything else on the internet. I think everyone deserves to have a nice smile, even if they can't afford to visit the dentist. So what does everyone else think about this?
5 responses

• United States
29 Jun 08
Wow I am going to have to check into this. I have horrible teeth the top set are spaced out too much (should have had braces when I was younger but didn't) and the bottomsI have huge spaces and crooked teeth. Thanks for this topic i have been so embarrased about my teeth and have no money to do anything about it.

• United States
29 Jun 08
You are welcome, I came upon it on accident, but I always like to learn about new things. The only thing is you cannot eat while wearing them, however you may drink while wearing them. Also there is a page, but I did not look at it, and you can print out measurement so they send you the right size kit to fit your mouth and teeth.

• United States
29 Jun 08
Great! I looked at the site. I think I may get these before I return to work (I am a seasonal tax preparer). Since I don't eat a whole lot at work that shouldn't be a problem.

• United States
29 Jun 08
I have not seen those yet. Do you put them over the teeth you already have? I would think that they would fit everyone different as not everyones mouth or teeth are aligned the same way.

• United States
29 Jun 08
Yes you put them over the teeth you already have, and if you have missing teeth, that can be fixed as well. On another page that I didn't look at is some type of mesurement thing that you can print out and fit around the teeth so you know what to order, that way you get the right fit.

• Philippines
29 Jun 08
I think it is absolutely wonderful. I've always wanted a killer smile and now I might actually have a chance of having that without spending a fortune which I don't have. Thanks!

• United States
29 Jun 08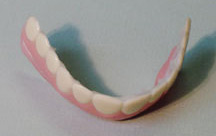 I think it is a cool idea, here is one pic of what they look like. They are thin enough so they fit over your own teeth and nobody can tell the difference.

• United States
29 Jun 08
That is a really neat idea. I also hope that it is legit because I agree that having a wonderful smile and feeling good about yourself should not just be for the rich and famous. I am going to have to check this out because now I am curious about these things. I will have to ask my sister about them, she works in a dental office and it makes me wonder if she has ever heard of them.

• United States
29 Jun 08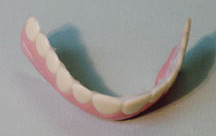 The site even tell you about the woman Nancy wo created these teeth. Here is one veiw of what the teeth look like. Pretty cool huh.

• Davao, Philippines
29 Jun 08
i havent seen it yet here..oh how is it done? ok ill try to check on it later and read what is all about..

• United States
29 Jun 08
I found the site very interesting, I came upon it by accident. I think it's a great idea for people who can't afford the dentist.