eBook or Paper Books?

Poland
June 30, 2008 7:41am CST
I've been recently getting into eBooks and reading them on my palmtop and it's been a blast. But every now and then I miss the real books hardbacks, paperbacks... The smell of paper and the touch of paper beneath my fingers. What is your stand on ebooks? Will you switch from paper books to ebooks? Why? Does the price matter in this case?
11 responses

• United States
30 Jun 08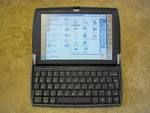 I love Ebooks. I've a Psion Series 7, a sort of tiny laptop-come-PDA that's about the size of a hardback. Couple of hundred books on there, and the 1Gb memory card isn't half-full. Did a lot of travelling till late, and on an eight hour flight, that sort of thing was ideal. Don't think I'll ever actually give up owning actual books, but I'm definitely a fan of electronic ones. I never really went for the whole 'you can't beat the smell of paper' type argument, as the important bits to me are the words;) Funnily enough, I actually wrote an article about exactly this a while back, which can be found at http://tinyurl.com/3fdo4y

• Mexico
30 Jun 08
Well, I read books TO GET AWAY FROM THE COMPUTER lol . No, seriously, I much prefer real books. The content of the book is in that context of little importance, because here we talk about an activity really, where you 'leave' your life and dvelve into the lifes of other people. You kind of take a break from the real world, I guess. And that's a psychological aspect of reading which is enhanced by putting everything aside (even maybe switch off the phone), and sit in a certain place in a certain position. Bodylanguage is important here, the way we sit, because that as well sends messages to our unconcious that we are in for a break.

• Israel
8 Jul 08
I love having books on my palm. No extra weight to carry. I legally download the classics for free at the Gutenberg Project site. They have enough books to keep me reading forever. This way I always have something to read while I am waiting for whatever. E-books would have to be dirt cheep for me to buy them. With paperbacks, one person buys it (on sale) and it gets passed around to about 10 people before it goes to the next town to be passed around again in another group of English readers. I guess if all my friends had palms, I could buy and read an e-book, then pass it along on disk to the next person.

• United States
2 Jul 08
I have yet to really get into an eBook.. but then again, I don't really have a Palm or anything where eBooks would be comfortably readable. Besides, I just love physical books too much at this stage... It's still comforting to hold in my hands, and books don't die out after eight hours without a recharge (unlike electronics).

• Croatia (Hrvatska)
1 Jul 08
I prefer real books. While being on the pc you can do so many other things, read blogs, read the news, read what your friends have to say, in front of the tv you see the movies, reality shows, etc...So what is left for you to do when you don't want to be in front of your pc or the tv, and you don't want or you cannot go out for doing something else. Wel that's why yoy need the real paper books to hold them in whatever position you like, while on bed or in the bus, or out in the park, or at the beach. What's more, they don't need electricity and they don't have a batttery. So you can have them open for days if you want...

• India
1 Jul 08
ebooks consists of the information that we do not get in any books and also they are less cost effort so see that you concentrate the thimgs which you get more information


• Philippines
30 Jun 08
I still do prefer paper books because I can make remarks.with ebooks I sometimes feel lazy to read and I easily forget..


• United States
31 Jan 09
I actually prefer printed books. I love to read and re-read my favorite books. I've actually printed a couple of e-books out just so I can read them LOL The only advantage to e-books is that if the book becomes worn or loses pages, you can print it out again. [b]~~AT PEACE WITHIN~~ **STAND STRONG AND TRUST IN GOD**[/b]

• Philippines
8 Jul 08
ebooks are very handy nowaday.. you can read them anywhere anytime as long as your PDA or laptops are fully charge. Books are sometimes heavy to carry and turning oages are the things in the past... but there are some great books out there that are not published yet in ebooks. So reading the old fashion way still good for passing time. =)