Sanath jayasuira or Adam Gilchrist?!?!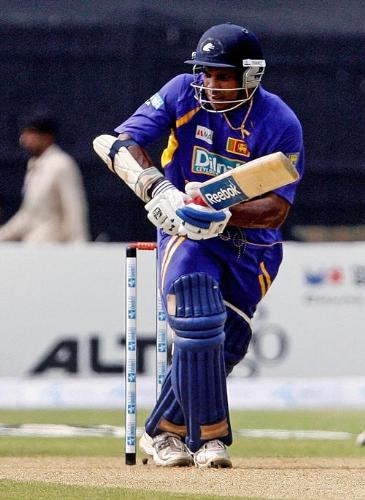 Pakistan
July 1, 2008 1:40am CST
Srilanka's Sanath Jayasuriya and Australia's Adam Gilchrist have been the most devastating batsmen of the world cricket. They are very aggressive batsmen and destroy the opposition single handedly by their great strokes. Hitting the sixes is a child's game for them. Sanath Jayasuria's record of 26 ODI hundreds with many 150+ scores and a highest of 189. His name is present many times in the top 10 fastest ODI hundreds and fifties. He still holds the rwecord for the fastest fifty in the ODI cricket. He has also scored a triple hundred in tests. Adam Gilchrist on the other hand is totally devastating. He too has registered his name in fastest hundreds and fifties in both ODI's nd tests. In tests, he has scored second fastest hundred. many great bowlers including great Wasim Akram feels he is the most difficult batsman to bowl.. In your opinion, which player as a batsmen is better?? Don't compare their all rounder capabilities, just batting.. I prefer Sanath jayasuira, I think when he is in touch, no person in the world cricket can match him...
4 responses


• Pakistan
2 Jul 08
Till now Its Jayasuria 3 votes Gilchrist 2 common guys, lets c who is better As far as consistency is concerned, i want to tell you that ADAM GILCHRIST has been out 99 times in between 20 and 49 runs in 287 ODI matches with a percentage of 34.4%. It shows that he got the starts but unable to convert it. On the other hand, SANATH JAYASURIYA has been out 121 times so far in between 20 and 49 runs in 414 matches with a percentage of 29.2% It shows that he has a batter conversion rate. When he gets start he usually makes big ones. Further, Jaysuria has scored 4 times 150+ runs in an innings in ODI which is a world record.

• Pakistan
2 Jul 08
This is because of the fact that Sanath Jayasuria initially batted in the lower order. he was promoted as a opener in the 1996 World Cup under the captaincy of Arjuna Ranatunga. If u compare the stats after the 1996 World Cup, Sanath Jayasuria has an average of 36.29 in 320 matches with 25 out of 26 hundreeds... now who is on top?


• India
2 Jul 08
I go with Adam Gilchrist because of his ability to come up with great innings when it matters, see the last 3 world cup finals for example... against srilanka, india , and pakistan he played a big role in all those matches, its the ability of a player to deliver under pressure is what makes him greater, jayasuria too is a great player but he has not performed like Gilchrist when it comes to big matches. So i would say Gilchrist has his nose ahead when compared with jaysuriya.

• India
2 Jul 08
I also think sanath is the most devastating batsman in the world cricket. Adam Gilchrist is also an aggressive player but bowlers can control him just like andrew flintoff did in the ashes series. He bowled round the wicket to gilchrist and he struggled to attack flintoff. But when sanath is in form no bowler can stop him.

•
1 Jul 08
In my opinion sanath was better than gilchrist as gilchrist himself said that his batting was not as good as before and in the ending, before his retirement he used to miss many catches in the keeping.And sanath now 39 yesterday has proven that he can bat strongly as his debut.