Is or was there a teacher you don't like? Why?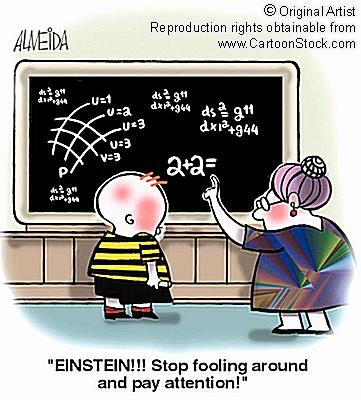 China
July 1, 2008 4:07am CST
As we are the students or at least we were, the adults we get along with are teachers. Most of them are good, teach us not only knowledge but also share life-experience with us, while some are not good. We were hurt by those BAD teachers. It was my 1th my of my senior high school education, the teacher in charge of my class hada very strong bias against me. As my school is a boarding school, i live with other 8 boys in a room, 5 of them are smokers, once unfortunately ther were caught when smoking in the dormitry. I don't smoke but that teacher in chage of my class believed that i did and he call my parents! Later he took my walkman and e-dictionary away form me by no reason. At that time i just wanted to define that as robbery. That's why i don't like that guy at all. So is or was there a teacher you don't like? Why?
7 responses

• Singapore
2 Jul 08
As far as i remember, there's only my primary school teacher that i dun like, and she teaches my most hated subject, MATHS.. lol =D ANd it's also partly because of her that i hated MATHS.. haha.. It all happens because i got some answers wrong and bad handwriting with my MAths homework, so she punished me together with a few other students by holding back our break time and stay back to correct our mistakes.. By the time we are done, break time is almost over and when we got to the next lesson, we were punished for being late again.. ANd that time, kids will always be kids, whatever we say, our teacher will never believe us abd thus i started to hate MATHS too.. hehe

• China
3 Jul 08
Maths is also my heaache! I once wrote a poem about Maths. "Because of Math, My life became a mess, No Math, No mess, Just may God bless!" A little bit funny and my English teacher actually printed it and framed it and sent that to my Maths teacher, this is a little bit crazy. It was my 5th Grade of Elementary School that i began to hate Maths because of my teacher flunked me while gave a beautiful girl extra marks so that she had a very wpnderful summer vacation, that guy destroyed the image of Maths. Thank you so much for your response! Have a nice day!

• China
4 Jul 08
yes, i have some teachers i like very much and the teachers i do NOT like at all. i do not like those snob teachers, who like rich students only. i do not like teachers, who are not responsible for their teaching. i do not like teachers, who don't have good character... seems it is very hard to be a good teacher. yes, teacher should do quite well since our next and next generation rely on them.

• China
5 Jul 08
Wow, that kind of teacher is just disgusting! They act as they were the grandson of the rich, they even lost their self-esteem, this kind of teacher should be fired as soon as possible once found. Thank you so much for your response. Have a nice day and enjoy mylotting!

• United States
4 Jul 08
It is more than likely that everyone will have at least one teacher they don't like. Especially in Public schools, people do not have much of a choice. teachers and students are all humans and not everyone shares the same values and views and through the years there are bound to be personality conflicts. I really didn't like any of my 9th grade English teachers, but when I got older I actually had a chance to get to know both of them and found out they were pretty good guys after all.

• China
4 Jul 08
Yes, i can't agree with you more! Even in university we still are charged to face the teachers that you don't like at all because of the very different value that we share. And what's more, i think anyhow, students have generation gaps with their teachers which is also a reason of misunderstanding. Thank you so much for response. Have a nice day and enjoy mylotting.

• Canada
2 Jul 08
So sorry to hear about what happened to you. Even teachers can make mistakes like that. Since they are the authority in school we must abide by their rules. Forget about the past and move on. Do your best to finish your studies so you can leave these bad teachers behind lol. When I was studying, there are professors that I did not like. They are the ones who have what some call teachers pet. I am not angry at them because I never became a teachers pet. I just thought that students must all be treated equal.

• China
3 Jul 08
Well, that's really bad for a kid. Some teachers ruined the image of teacher if he/she did that to a kid, so when that kid had a new teacher that may be very good , he still needs time to erase the pain that the former teachers brought him, which is also not good for the next teacher. Teacher pet is really insulting, at least i think so. Thank you so much your response and have a nice day!

• Philippines
1 Jul 08
It's normal to hate or dislike your teacher. There are some reasons like some of them are lazy to teach their students, most of the time they just asked one student to write this chapter or this lesson on the black board while the teacher is just stayin in the faculty. My classmates include me hates that they give us a surprise quiz even we don't know the lesson thats why we got low grades. Err!

• China
2 Jul 08
Yes, i once was also a student of that kind of teacher, just feel like i want to change class, i wanna go to attend another teacher's class. When you had a teacher you don't like when you chat with your pals when they mentioned their teachers are good or something like that you'll feel like you are just not lucky. Thank yo so much for your response. Have a nice day and enjoy mylotting!

• India
1 Jul 08
I don't like the lecturer because I absorbed that he is a partiality of girls I feel that a lecturer must be equal among all students

• Albania
1 Jul 08
as a matter of fact, yes, there is. this teacher is very nice to me, but i hate how she behaves with others. she always yells at stundents, evern if they are not guilty. i think that our class should have told the principal about this, but we didnt. i hope that she will get better in time, because right now i really hate her!

• China
2 Jul 08
Yes, i don't know why this is kinda situation that everyone has experienced at least once. This is just a pity nobody wants to see that, but maybe the lack of communication and bias lead to that bad results. Thank you so much for responding. Have a nice day and enjoy mylotting!