I have not seen flower in green or black color

Pakistan
July 2, 2008 2:28am CST
Hi friends i just had disscussions over flower and tulips, but i have not come across any one who can say that they have seen any flower which is either green in color or in black colors.

the most they have seen is deep purple or deep marron color flower which is know as black. So here are people from all over the world, has any one have seen pure Black or pure green Flower????
6 responses

• Australia
2 Jul 08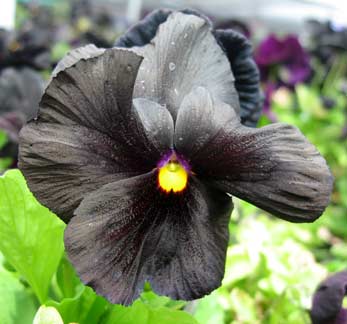 Yes I have had black pansy's growing in my garden, they look beautiful, I did have what was called a black pelagonis bit that was more like a very deep maroon colour, can't say I have ever seen a green flower though...

• Pakistan
2 Jul 08
Hi Lilac lady, i was hopping to have Lilac reply from U

well the pansy is not black, its deep velvety purples, jet black like lead i am talking about.Its seems to be black. So u have not seen green flower, lets see if some one witness for that Thanks for ur reply and i think its first ever to get from u , right

Take care



• China
4 Jul 08
i have seen black tulips,but not the pure blck.I heard that the pure black tulips are very precious.and I have seen some green and black flowers on net.I can show you the pictures.but how can I post the picture in my response?


• India
2 Jul 08
Cupid I have heard of green flowers doing photosynthesis for the plants and also black rose, black pansies. But Haven't seen any myself. Have you?

• Pakistan
2 Jul 08
Hi dear thanks for response All green plants do photo syntheseis and its mostly done by leaves, green leaves. as a result they produce Oxygen, thats why its recommened to have more plants so they can supply fresh Oxygen to air. Plants are source to maintain balances of gases in air Well i have not heard of green flowers and JET BLACK flowers, thats why start this discussion Take care


• United States
2 Jul 08
Hi cupid, I have not seen any flower with that color! This is interesting if ever those colors are available in other areas!