we have oil in our own backyard!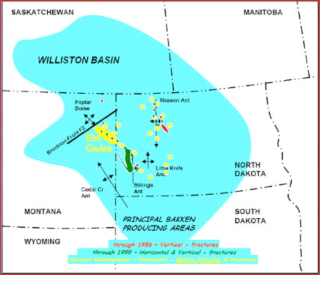 United States
July 2, 2008 2:32pm CST
Can anyone please tell me why are allowing our country to be held at ranson! Our wonderful country is falling apart and we HAVE OIL I just don't get it?!?Investing in Oil: The Gusher Behind the "Montana Millionaires" Posted April 29, 2008 - 5.3 times the proven reserves of Exxon, Gazprom, Chevron and ConocoPhillips combined… - Twice the size of Saudi Arabia's Ghawar oil field… - The U.S. Department of Energy confirms, "This could increase crude oil in America by billions of barrels." - The Billings Gazette says, "The oil field has made millionaires out of ordinary Montanans…" About 470 miles outside the state capitol of Helena - in a place called Richland County, Montana - more millionaires are being created per capita than anywhere else in America. To get right to the point… It's the largest domestic oil discovery since Alaska's Prudhoe Bay and has the potential to eliminate all American dependence on foreign oil. The Energy Information Administration (EIA) estimates it at 503 billion barrels. Even if just 10% of the oil is recoverable… at $107 a barrel, Montana is looking at a resource base worth more than $5.3 trillion. "When I first briefed legislators on this, you could practically see their jaws hit the floor. They had no idea." says Terry Johnson, the Montana Legislature's financial analyst. "This sizeable find is now the highest-producing onshore oil field found in the past 56 years," reports The Pittsburgh Post And because this is light, sweet oil, those billions of barrels will cost Americans just $16 PER BARREL!That's enough crude to fully fuel the American economy for 41 years straight. http://www.todaysfinancialnews.com/oil-and-energy/investing-in-oil-2/
6 responses

• United States
3 Jul 08
the envirmentalist are to blame for this they holler every time some one wants to drill here and they hollered so much that alot of the drilling we were doing had stopped years ago thats why we are in this slump but if they hurry up and start drilling and pumping again we would be fine again! Congress needs to open their eyes and fast!

• United States
3 Jul 08
This particular huge oil amount is currently being drilled and used. The people in that area (ordinary country folk) who own the land are all millionaires. That is what blows my mind it is available NOW! No need to wait years for it to be drilled etc.

• United States
3 Jul 08
I don't know what this is about. Are we not allowed to pump more here in the states. There just seems to be more and more stupidity in our country. The America of my grandparents and parents time was a very different place,no? xoxoxoxoxo

• United States
3 Jul 08
It is just unbelievable that our economy is falling apart because of the increase in oil prices. The link I gave is not the only mention of this huge amount of oil. I have also seen it on TV about this vast amount of oil. It is currently being drilled and used that is why the owners of the land are all millionaires so the usual answer from our politicians that is would take 5 years etc. before we would see any benefits is noting but a crock of sh1t!

• United States
2 Jul 08
whiteheather, if you can figure out our stupid
@ss
country's doing then please tell me for I'd so love to know. For some reason our country is being ran on a bunch of brainless idiots who are making a profit on us and it probably why they won't use our own damned oil.

• United States
8 Jul 08
Actually, a fact that a lot of people are ignoring is that we do not have enough REFINERIES to process all the oil we could be producing. It has been almost two decades since a SINGLE new refinery has been built in the US, even though the demand has been there. Also, the refineries that we do have are old and getting older. They have more and more "down-time" for repairs and maintenance. Things break more often. Pumping more oil and not having the capacity to process it means that the oil needs to be stored. The most efficient and least expensive storage area is to leave it where it is in the first place; which means, it does not get pumped in the first place. If you want to help get more refineries built and more gas, etc into the market - tell your politicians (both local, state, and federal) that YOU would not mind them building that refinery on YOUR block. Because, if you think the environmentalists get up in arms about drilling for oil; you haven't seen anything until you see an angry mob of homeowners start saying "You aren't putting THAT in my neighborhood!"

• United States
8 Jul 08
Interesting info. I can certainly imagine just what kind of reaction it would cause in my neighborhood!

• United States
8 Jul 08
Exactly, and every time the oil companies try to get a new refinery approved, that is exactly what happens. It is not just a few special interest groups (environmentalists, etc) that fight it tooth and nail; it is the average citizen who breaks out of their daily apathy and lethargy and fights to keep a new refinery from even breaking ground. "Not in my neighborhood! Not in my town/city! Not even in this county! And, by the way, we still want nore gas processed and available so the price will be lower; just don't process it here!" The high price of gas and other fuels has a LOT of different reasons causing that high price. The amount pumped from the ground is only one of many factors and any politician who's sole focus is on opening up more drilling is a politician who is trying to appease the people who are complaining but has no intention of doing anything to actually make a difference. As a matter of fact if more oil is pumped without increasing the capacity fo the refineries gas prices will actually increase to reflect the additional costs of building storage facilities and storing the oil until it can be refined. ALL additional costs do get passed on to the consumer - you and me.

• United States
7 Jul 08
It does seem crazy. It seems that they don't want people to know things like that.

• United States
4 Jul 08
If the environmentalists, tree huggers, and other professional protesters allow this oil to be tapped then maybe we can solve some problems, but as was the case in Alaska, they had to fight every environmental group in the world to get that oil.