How often do you exercise?

Philippines
July 2, 2008 3:18pm CST
When i was still single, i used to visit the gym three times a week...but, when i became a mom...i never have a chance to exercise even for 10 mins. how about you? your thoughts...
9 responses

• United States
2 Jul 08
I tend to go in spurts. When I was still in the Marine Corps I of course exercised quite a bit, several times a week, sometimes every day. After I retired (11 yrs ago) it became a lot harder to fit into my routine and I slacked off for quite a while, but got back into it a little bit here and there. I just got a free recumbent bicycle and have started using it every day, though. It's very convenient and easy to use, not hard on my back, so I know I will continue to use it every day.

• United States
2 Jul 08
exercise?? lol. i never exercise. atleast not intentionally. every once in awhile i'll go for a long walk with my family. but other than that i don't. i really should but i just can't get motivated. i have 3 kids under 6 so that makes it hard. and i can't afford to go to the gym.

• Philippines
2 Jul 08
yeah right! i can no longer afford to go to the gym as well...don't have time...i am focused to my family and work.

• Netherlands
8 Jul 08
I'm a 22 year old student and I've been member of the gym for about 3 months now. I go there once a week and work out every other day at my own home with a crosstrainer, rowing machine or step aerobics. When you have a busy shedule going to the gym is easily pushed asside, that's why I saved up for a second hand cross trainer and I got the rowing machien (pretty old but it works!) for 8 euros at a thrift shop. The stepper for step aerobics was about 20 euros. These are small investments but they give me lots of exercise at home. I can imagine this being handy for a mom because you can get like 20 min to about an hour of exercise when the kids are at school or asleep without having to leave the house. I could recommend it to anyone.

• United States
3 Jul 08
I am a single working 40 year old single mom. I work out either before work for 20 minutes or a halfhour at lunch time. If I can't make it to thegym, I take a long walk after work.

• Philippines
3 Jul 08
very seldom, i must admit. but i really want to make it a part of my everyday life, if only time permits.

• India
3 Jul 08
i have lot of interest to do exercise, and making the body stiff and flexible. i will do some exercises, yogas, regularly on some days. but now due to some work, there is no time for me to do. but whenever i have time, i will do the exercises and yogas.

• United States
2 Jul 08
I try to do a little bit every day... at the very least I try to ride my bike around the neighborhood a couple of times after work/dinner. It's relaxing, it helps build muscles, and, well, it's good for me. But for REAL exercise other than that? Erm, twice a week, maybe three times.

• United States
2 Jul 08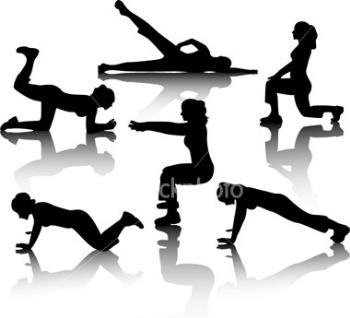 I try to exercise when I can but never seem to have the time. So now when i watch t.v. and have nothing to do i will walk in place and I try to do atleast 100 crunches before I go to be that is if I am not too tiered.

• United States
2 Jul 08
I never exercise. Unless it is unintentional. It is the worse thing.