I am sure you would love this one too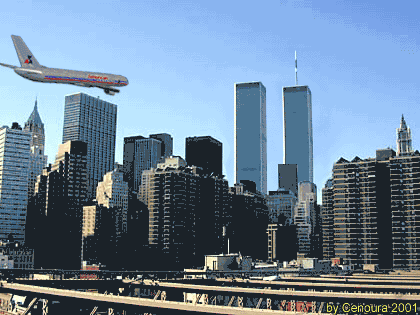 July 2, 2008 11:25pm CST
Have you ever seen an aeroplane fly in the sky? Obviously, yes. But I am sure you must have never seen an aeroplane fly a little lower in the sky and if it comes across any sky scrapers, it makes it own way between them. The sky scrapers make a way for the aeroplane to pass by. I am sure you would love to watch it. Here I am uploading the image, with this situation. Hope you like it and don't forget to leave a comment on how you liked it. Enjoy and have fun.
3 responses

• Philippines
8 Jul 08
Wow that was awesome! Haha. I wonder what would happen to the people in the building if that was real hehe.

• Singapore
3 Jul 08
wow that's a really interesting animation. wish this would happen in reality. why doesn't the scientists invest something like this? building that move out of harm's way automatically. this got to be the greatest invention in human history. lol ;p

• United States
3 Jul 08
it's a pretty cool little animation.....but i think it's going to bring back too many memories, especially in the USA, of 9/11.