Do you like Ferris Wheels?

Omagh, Northern Ireland
July 3, 2008 5:57am CST
I was in Belfast (N.Ireland)on my own Yesterday,and made a point of going up on the "Belfast Wheel" in the grounds of the City Hall..I had the gondola to myself and had a great view out over the City..A Friend who was with me another day before said "No Way You're getting Me up in that!",so I passed on the idea that time! Do You like them,or not? Which is the biggest one You've seen or experienced?
7 responses

• United States
3 Jul 08
I have to say that yeah I really like the ferris wheels ,because the move really slow,and they take you up high enough that you can see the entire park you are at, which is awesome,unless you are afraid of heights,which I am not afraid of heights but I am afraid of falling from great heights.

• Omagh, Northern Ireland
3 Jul 08
Being up high doesn't bother Me..but I would say I'd be afraid of falling from a height too! In a theme park scenario,I don't mind heights,it's the rides trying to seperate You from your Lunch that I don't like!

• United States
10 Jul 08
I am glad to hear that heights to not bother you, and I bet everyone is afraid of falling from great heights, and yeah heights at a theme park are much better than the rides that make you want to throw up,and I do not really care for those rides either,have a great day, good luck in your life,and Happy Posting.

•
3 Jul 08
I love ferris wheels only I haven't been on one in ages as I have not been near where to one is! I think the biggest is the one on Blackpool pier but that is not very high!! I am off to London next month and am going to try and get time to go on the London Eye! x

• Omagh, Northern Ireland
3 Jul 08
I'd recommend the Eye for a trip!

It's an amazing view out over the city..I'd love to try it around sunset when the lights are coming on!

•
3 Jul 08
Cool! I will have to do a morning ride though as our train back leaves at 12pm. I hope I do get to ride it! x

• Omagh, Northern Ireland
19 Oct 08
You didn't come back with a report on how you got on with the London Eye! How did that trip go?



• United States
3 Jul 08
I will go on the ferris wheel with my kids but im not a huge fan of them. I find they are kinda boring but they are just normal sized ones ive been on. Id love to go on some of those huge ones to see the views.

• Omagh, Northern Ireland
3 Jul 08
Was just looking at the company site that runs the Belfast wheel..it's 60m tall..about 200 feet.. I've been on the "London Eye" as well..it's over double that size,at 135m!

• Omagh, Northern Ireland
9 May 09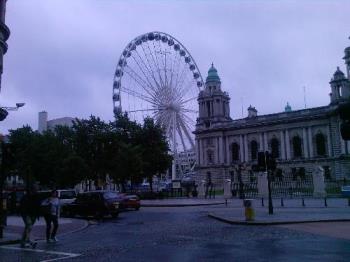 Here's the most recent one I was on,referenced in original discussions..

• Philippines
21 May 09
a younger me is so afraid of the ferris wheel but when i did try to ride it. im loving the feeling. the feeling of being so up high and seeing the things that you cant try to see when you are just down the ground. when the wheel started to go up i could feel my stomach whirl like i dont know really what to do. and when it go down, whew! what a relief... then again and again the wheel goes. but that experience is an experience of fun and fear adding up.


• United States
19 Oct 08
Ferris wheels are fun! But, they can sometimes make me dizzy! But, it's all good! I like Ferris wheels! =)

• Philippines
3 Jul 08
i like ferris wheel! i think that was December of last year when I first rode a Ferris wheel. i was with my friends, and we decided to ride on it just for fun, for the sake of trying a different and challenging ride! so there we were, we enjoyed every second of it. we shout out loud until our voices became hoarse. i cant forget that experience, and i will cherish that night when i first had my Ferris wheel experience!

•
10 Jul 08
Yeah ferris wheels are great, i gladly go on them! I suppose the biggest one I've been on is the London Eye if that counts!

• Omagh, Northern Ireland
11 Jul 08
Oh,Yes,the "Eye" counts! I read that it used to be the world's biggest,but another one has taken the lead!

• Omagh, Northern Ireland
22 Sep 09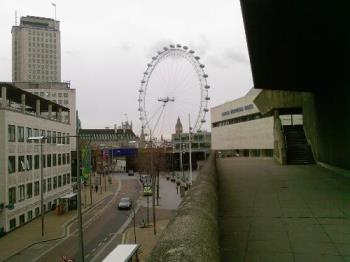 The thing's so big,You need to be a ways back from it to get it all in!