How many of you have been to a strip club?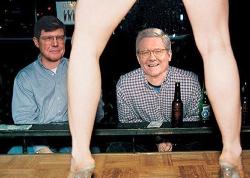 India
November 3, 2006 11:42am CST
Cmon be frank, tell me...
10 responses


• India
3 Nov 06
Bad luck for me i haven't been to any strip club yet.

• Pakistan
3 Nov 06
iv never been there. n ill never go there. coz clothes r 4 putting on not 4 putting off

• United States
3 Nov 06
I will not be anyone but me. Actuslly I do not visit, I work in them. I have never spent more than $20 all night on girls. This is the largest distraction for the weak minded in both males (generally the patron) and the females (even if they are the dancers).



• United States
3 Nov 06
i havent been to a strip club. And i would never go to a strip club, i just dont like seeing girls taking off their clothes just to have some money. There's alot of ways to earn money, its not just by dancing in a strip club or whatever.

• United States
3 Nov 06
I don't understand why people go what do they get out of it besides throwing there money away? No, I have never been and don't want to go. God Bless

• Canada
3 Nov 06
I am a female that has been to the female strippers a few times, but only to the males for about 20 mins to make an apperance for my friends birthday, Shking around a limp package just dosnt do it for me