I Let my son get his hair dyed!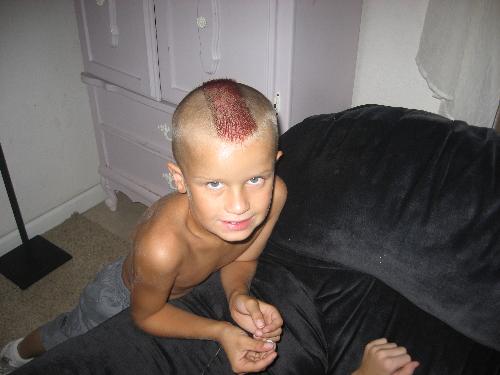 United States
July 3, 2008 2:09pm CST
The other day my son was getting ready to get his hair cut and asked if he could have a mohawk and i said no. well he asked his dad and his dad i guess said ok because when he came out of the bathroom he had a mohawk, he said its summer time so i said ok because it looked really good. he then got on this kick of wanting to dye it blue so i said ok well its summer time so why not, it will wash out before school starts and if not then he will just get another hair cut. well they didnt have blue so my friend got red. It turned out very nice lookin! I was surprised at how good it turned out. I know people may think im crazy but its summer time so let them have fun and enjoy it. its not dangerous so i allowed him to do it. Have you ever done something like that with your child? or would you?
5 responses

• United States
3 Jul 08
Yes, both my boys went through a mohawk stage when they were about the same age as your son. I think it is cute on little ones. Besides let them get it out of their system now instead of when they are in their teens and a really doing it only for attention. Both my boys are now 13 and 17 and find they like "normal" hair cuts that make them look "hot" instead of making them stand out of the crowd. Besides it is only hair it grows back and can be cut off. Best wishes

• United States
3 Jul 08
My son is normally a pretty boy himself but i guess he seen it somewhere or something made him decide to do it but its only till school almost starts then he's going back to being a pretty boy. i have 2 boys and 1 daughter my oldest who i am talking about is the pretty boy. my 2 year old is the tough one and my little girl she is only 3 months old. my friend posted a thing about this before she did it and someone said i was crazy thats why i was wondering who all thought i was crazy lol. and another friend of mine i sent her a pic in the email and she said i was crazy too. it could all be in joking but i told her "well no one ever said i was sane either" lol :) my friend did a really good job with it, the pic is at the bottom of the post, i dont think i could have did it that good. thanks for responding

• United States
3 Jul 08
I don't think your crazy! I think you are a really good parent for allowing your child to express himself! You are allowing him to make a decision and know that he has to stick with it. If you have not already, and I hope I am not out of line here, you may want to explain when you look a certain way, expect a certain reaction from certain people. I think that this single experience in your sons life will set a strong foundation for the person he will become. I commend you on your decision!

• United States
4 Jul 08
Yes, as a matter of fact i think when he turned 6 he wanted an earring and his dad had a talk with him about it and he really wanted it so he got it. He really likes his earring and it didnt bother him when people said stuff about it and he came home the other day when he first got his hair cut and he said that his one friend said mohawks are for gays and it kind of bothered him at first and then he showed him some famous people who have one like Mr T and Chuck Ladell who is a UFC fighter and some other wrestler (it was a dad and son bonding moment i think)

But anyways.. Yes, we did have a talk with him about it and he seems to like it alot and i havent seen him come home crying since he came home and showed the kids so i guess its no big deal. tomorrow is the forth of july so it fits in with the date so thats pretty cool too. Thanks for your response :)

•
3 Jul 08
I dont think you're crazy at all. Let him have fun. My mum has white hair and she let my son spray it bright blue one Christmas. It looked good when she combed it through and she kept it blue for a few days. (My mum and my sons let me dye mine whatever colour I want...)

• United States
3 Jul 08
yea i think blue might have looked a little weird on him but then again it could have brought out his bright blue eyes too.. who knows but the red looks awesome. :)


• United States
3 Jul 08
Yea i put a picture at the bottom of my post of it, did you see it? i think it looks really good.

• United States
4 Jul 08
I think he looks way cool with his summer style. The closest I ever get to something like what he has is when my 17 year old gets the bright idea to color her hair some bright color. She's settled down some but there have been many different shades of color on that head.