Do you think dogs get depressed?

United States
July 4, 2008 1:01pm CST
Just wondering because today one of our puppies just seems to be a little down or depressed he is actively avoiding us and seems to just be blue or something, our other puppy seems to be content and even extra happy or something today, if that makes any sense. Just wondering what you all may think about this,
5 responses

• United States
5 Jul 08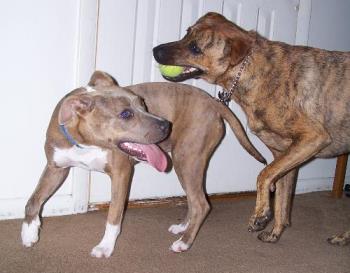 Yes. I think dogs can get depressed. There was this beautiful, sweetheart pitbull girl not being taken care of by our neighbors and I saved her from them. We had her a couple of days straight but before that i had been taking care of her as well but returning her for a couple of weeks. her and my dog got along great and were playing and everything. They became good friends and we I had to find some place to put her. My dog looked really down for about a week after she was gone. and he is getting down again because my neighbor moved away and i took him over there and my dog would play with my neighbors dog and now when we walk by his house and my dog doesn't get to over there he starts to whine a little. my poor boy. So dogs can get depressed.

• United States
4 Jul 08
Yes I do. Also how old are the puppies? The one that is 'offish or distant' is she showing signs of being sick? Puppies have moods just like us. Maybe seperate them and show a little extra TLC to the shy one. Good luck!

• United States
4 Jul 08
They are about six months, I am thinking that the one that is moody is missing my son, he was his dog, and he is in basic training now, then this week the rest of the kids are gone on a trip with our church so maybe the puppy is missing the kids. the one that is being very moody did perk up a little bit when he heard my son on the phone a little while ago.


• United States
5 Jul 08
Yes, I think they defintely do. My dog is very sad whenever anyone leaves. But beyond that I have herd of dogs who their owners die or something and they will have to be put down because they refuse to eat or drink.