I love a parade!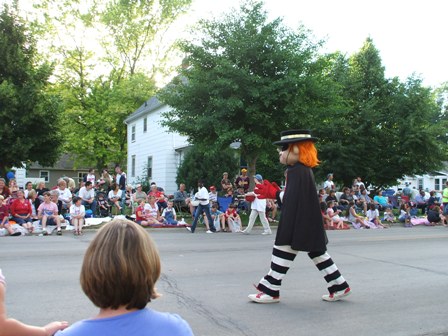 United States
July 4, 2008 7:25pm CST
Last night I attended our local parade with my granddaughter and daughter in law....it consisted of 144 units and took about two hours. Below is a picture of one of the charaters that walked along the parade route passing out candy! My granddaughter got a ton of stuff including a new tee shirt...yoyo...candy.....deck of cards and other things too numerous to mention. Do you like parades and who is your favorite charaters...clowns? Or cartoon charaters?
10 responses

• Garden Grove, California
5 Jul 08
I love parades too, and clowns are one of my favorites, and also the marching bands and some of the odd things like the band made up of guys playing washtubs. weird.andd the motorcycle cops doing their things.

• United States
5 Jul 08
I know you all had a great time, especially your granddaughter with all of her goodies. I do like parades. We have a huge on here every year for our yearly buccaneer days. I love to see all the floats plus the buccaneer queen and her court in their beautiful hand made sequined gowns. Between the two I would say I like the clowns the best for a parade.

• United States
5 Jul 08
I like parades but, I find that I get antsy standing there for a long period of time. I have to be doing something productive. I also avoid large groups of people and loud noise since I have PTSD. The t-shirt sound cool though! How was the weather for you yesterday?

• United States
5 Jul 08
Wow, that sounds like quite a parade in your city. The character pic was very cool. And, I can't believe all the stuff your grand daughter got! What a haul! Bet she was excited. I do like parades but haven't really seen one for years. We just don't get out and get to them. But your discussions sure make me want to!

• United States
5 Jul 08
I have an outfit just like the character in this photo. Looks better on him...lol I do like parades, the characters, clowns and just anything that goes with a parade. We use to take our kids all the time. We had a parade this year in May sponsored by the city where I am employed. It was too chilly and rainy to go. Bummer, I hated to miss it.



• United States
5 Jul 08
I don't have a favorite character. Its great to see people out enjoying the day. I'm glad she had fun getting stuff.

• Davao, Philippines
5 Jul 08

i like seeing one but not on the street because of the heat i often watched it live in tvs...in our city we usually paraded our great traditional custom and various tribes clothing as well..and various fruits and crops we had harvested during the season and thats what we call kadayawan festival here in our place..we seldom see mascots that seen in disney ...

•
5 Jul 08
Hi Jill oh I am so pleased to hear that your granddaughter enjoyed so much, you also of cousre, and received so many goodies. I love to wathc the parade we have a brilliant one in a village near where I live and they even have the Red Arrows fly over. The atmosphere is incredible. I don't like the clowns though, oh not the clowns. Don' mind cartoon characters but not clowns nor my daughter she will hide into me if she sees one and she is 17 now LOL. Ellie :D