Does anyone have those Jibbitz for their Crocs and which ones do you have?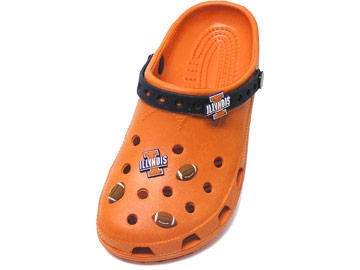 United States
July 5, 2008 11:45pm CST
I got a pair of Crocs a couple of weeks ago and I ordered some really cute Jibbitz for them. I bought ones of the things I like, for example: Nascar flag, the color blue gemstone, dog, gecko, book and medical sign because of the college courses I'm taking, Cubs, Illinois Illini, cell phone, American flag, Disney mouse, paw print, the numbers 7 and 13 plus a few more.:-) It's kinda like showing your interests off like we do here on MyLot. I think they're really kewl! Char :-)
4 responses


• Atlanta, Georgia
6 Jul 08
OMG I can't stand those shoes. Sorry. But if you don't mind me responding, I will. I went to Disney a month or so ago and I saw a lot of the kiddies with crocs and jibbitz of each Disney character on them. As much as I can not stand those shoes, on the kiddies I thought it was so cute. One little boy was going crazy at a kios cart begging his uncle to buy him mickey ear jibbit. It was adorable.

• United States
6 Jul 08
Thank you for responding. No it's no problem. I respect how you feel. Some people really don't like them. My 25 year old son thinks they are stupid looking, especially on me. Well I am 50 years young, but I figure, they feel good, I like them, so what the heck! :-) Have a great day! Char :-)

• Atlanta, Georgia
6 Jul 08
Well yeah, he would think like me. I am turning 25 in 2 weeks, lol. My grandmother wanted a pair. She is 62 and I begged her NOT to, lol. But as comfortable as people say they are, I might just get her a pair. She has some pain in her legs and so on, so I like her to wear whatever she feels are most comfortable for her. So I completely understand where your coming from. Hope you find all the jibbits you like!

• Philippines
11 Nov 08
i only have two jibbitz (jibbitzes?) which were given to me by a friend last christmas. one is a yellow giraffe, and the other is santa's hat. i'm not really particularly interested in giraffes or in santa, but my nephew likes them so they stay there on my crocs. =)