Depressed!! How do I regain connection?

India
July 8, 2008 5:45am CST
I did not even know where to post this. I wondered if I should post this in the God section or the religion section or the Bible section. Then, I thought, why not post this in Paganism? After all, I am a nature worshiper, or at least, that's what I think I am. Ok, I am depressed. I know why I am. I should never have started reading the Bible. But then, I wanted to at least know what was in it. I intend to finish it, but I feel too tired and sick. I am a very sensitive soul. I simply couldn't bear all those stories of a wrathful, killing God, the genocide, the murder of innocent children, the curses, the anger...in short, the negativity of it. I am really sad to note that I have lost that feeling of oneness with nature that I enjoyed before I started reading the Bible. I am just feeling tired and depressed, and yeah, betrayed too! I guess I am just too stupid to let a book have so much power over me. So, the cure? I think I will set aside the Bible for a short time, say two weeks, and read CWG instead. Gosh, I feel so drained that I can hardly work!! :( I think I need to go on a long walk, alone, not with that dog of mine! She distracts me too much. Cheers and happy mylotting
9 responses

• Philippines
9 Jul 08
You could try communing with nature and bleach the blackness from your soul. You could lay down on top of a mountain and let its energy remove the depression from your mind or maybe you could just go to the ocean and soak in the water for a while. I sometimes get affected by things that I read but I'm a much hardier soul than you it appears and I can easily process pretty much anything that comes my way. Do you know that we are being invaded by malignant bacteria from space? They usually hitch a ride on comets which probably explains why a comet is a sign or harbinger of bad things since time immemorial and many cultures have observed this phenomenon to make this a little bit more universal rather than just a local superstition. Cheers!!

• India
9 Jul 08
That's a lovely idea--lying on a mountain top and soaking up its energy. Delicious! I remember I did it once, long, long ago, and it felt so good. No, I did not know all these things about comets and malignant bacteria from space. Thanks a lot for your response

• Philippines
9 Jul 08
About the extra-terrestrial bacteria, I first heard about it a long time ago and it was kind of outlandish but then a short time later, they discovered a Martian rock which had traces of amino acids and cellular organisms which suggested that there was life on Mars and that life could travel through space without dying and arrive here or in some other planet. There is said to be a plant called Nibiru which is part of a system with a dark star at the nucleus and which is talked about in ancient Sumerian texts and it is supposed to come close to earth in 2012.

• United States
9 Jul 08
Throw the book away. Trust your feelings, if you feel bad when you're reading it then don't read it. Read books that make you feel good when you read them. That's the purpose of your feelings, they are inner guidance. 'Bad' feelings let you know when you are doing something or thinking something that is not what you want. Just as 'good' feelings let you know that you are in the presence of something that you DO want. It's really very simple.

• India
9 Jul 08
You wouldn't believe it, but there were more than a dozen Bibles in our house. My mother gave away most of them. Still, there are seven copies in both English and Konkani. You might be wondering what a family of atheists, pagans, and nonpracticing Christians is doing with so many Bibles. Well, I don't know. But, my father read and reread the Bible. He needed it to debate with the priests, his favorite hobby. And, you might be wondering what a pagan like me is doing with a Bible. Well, I just wanted to know what was in it. I had no idea I was such a softy that I couldn't stomach all those horror stories. Cheers and thanks for the lovely response.

• United States
10 Jul 08
Heheheh, debating with the 'priests' seems to be a pretty popular hobby! And if I didn't already have so many hobbies that give me so much pleasure I might consider that one too!

• United States
9 Jul 08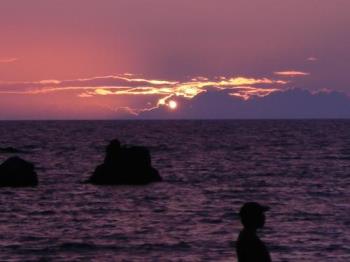 first off why would the bible make you feel like that? i know that it is up for intrepation and you get out of it pretty much what you want to, but the old testiment in the bible explains how things were before christ- and yes there was alot of evil in the old testiment. but the new testiment was to inspire everyone to become better- as for why you would feel the way you do, are you looking for something in it? or are you reading it just to read it? if that is the case then i would suggest you find a bible that is read in crocicalogical order as to history and see where and how things were in the past. if you are reading it to become closer to god and his word, then i would suggest you re-read john1 then pslams, then luke, mathew, hosea, daniel, - then it will lead you to other places. i would recommend you taking time to read every day and not to stop. the devil is trying to get you to quit every way he can so that you do not find what you are looking for. I have known people who have tried to read the bible become very bitter, and sick and well a few other things and put in down never to pick it up again. - but there is true that needs to be found in the bible and i think you should stick with it - but that is just me

• India
10 Jul 08
Hi puka, thanks for the response. Your new order of reading the Bible might not give me the correct picture, so I guess the chronological order would suit fine. I am reading the Bible simply because I want to know what is in it. :) But that devil? I think God and Devil are two opposing factors and both cannot be at the same place at the same time. When I am reading the Bible aka the Word of God, the Devil shouldn't be there, right? Cheers!

• United States
8 Jul 08
I go for a walk in the woods whenever something makes me sad. There was a Jamaican Reverend that used to read the new testiment every night for a few minutes to anyone who wanted to hear on the radio. My then boyfriend and I used to listen, he said, "Most people see the Bible as a book of don'ts, I see it as a book of does. If you do everything you're supposed to do, you don't have time for the don'ts." Imagine that with a quick Jamaican accent and a bright and cheery tone. For many people, the old testiment is about how bad the world was and how messed up before the coming of Jesus. Then the new testiment, Jesus came and gave hope to a world that seemed pretty hopeless, cured the sick, set aside some religious rules that seemed restrictive and might get away from loving God and said the greatest commandment, I give you a new commandment to love one another. If you spend all your time doing things out of love, then you don't have time to do anything else. So there is a contrast there between before and after, there is a hopeless part during the cruxifiction, but then renewed hope afterward. Some people just can't read sad stuff. I can't watch horror movies. Some people are affected by things too much. There is a thing called a concordance. In it, it tells you where things are in the Bible, that way if you want joy, hope, or anything else, you can find it. Sometimes they come with a Bible, but most times they're separate. Take care.

• India
8 Jul 08
That made a really interesting read. Thank you so much for your response. Cheers!

• United States
8 Jul 08
I think putting the book down and getting away from it would be a very good thing to do. Maybe even get rid of it. I would get rid of anything materialistic if it bothered me that badly. I never finished reading it myself for many of the same reasons you listed and I refuse to pick it back up because I'm just not going to do that to myself. A walk can't hurt either, the fresh air will do wonders for you.

• India
8 Jul 08
You have a point there. I have decided to put it away for at least a fortnight. I don't know if I will have the guts to reopen it. Cheers and thanks for the response

• United States
9 Jul 08
i had much the same reactions when ifirst started studying it. id get angry alot over whats written and wonder how the hell could people be so foolish as to think a "loving" god would try to instill such fear and breed such hatred.. and then call it a GOOD thing. so much so that my husband threatoned to burn it on me if i didnt put it away for a while LOL a step back form it wouldnt hurt.. getting out into the wilds someplace and recconecting with the spiritual will refresh you alot, give you some clarity, peace.. and if you do decide to pick it up again, try to veiw it the same way you would any other work of fiction.

• United States
9 Jul 08
I think that you need to remember that it is just a story. And good one. I have read the bible, but not to find spirtual answers but more of a history book. I loved it, it has some very interesting stories. But it nevered changed my faith. I still believe what I believed before I read it. So I think if you take it a face value and look at it for what it is.....A Book. I think you will really like it. P.S.: I agree, you should take a walk. And a long hot bath. You should feel better after that.

• Canada
9 Jul 08
Hi there, if reading the bible has that much of a negative effect on you, I would suggest not reading it at all, personally I was raised to believe in Christianity but have developed into a person who is open to all religions, faiths, and beliefs, but I have never taken what I read in the bible as anything more than what I read in any book ever written, it is just a book, just like any other with stories written by man meant to teach lessons based on what they themselves experienced. God is not a vengeful being who looks to punish you for your sins, he is a creator who gave us all the ability to think for ourselves and choose what our own set of beliefs would be. Personally I think the number one thing that I learned growing up was to do onto others as you would have them do onto you, treat everyone as good and kind as you can and be honest and caring and that is what you will attract into your life, I am sure that none of us needs a bible to tell us that. Mike.

•
8 Jul 08
step away from the book, and get back to the Earth. go for a walk somewhere that blows away the cobwebs and raises your spirits. sit under a nice tree, with a picnic, and just spend the day relaxing. remember, we are a part of the world, not above it, and we have our place in its essential workings. and if you need them, they'll come.