no BLOSSOMS...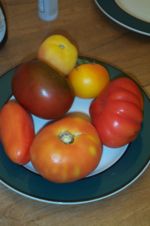 United States
July 10, 2008 7:50am CST
i got a late start this year on gardening - i was in the process of a move in april - i bought a couple pots of tomato plants a couple of weeks ago, up-potted them, and they practically doubled in size in a week! problem is - they have not set blossoms yet **is it the hot dry weather? i live in southern colorado, and last summer and the one before this were not nearly so hot so early. **is there some supplement i can add to the soil or water? i have noticed that a neighbor who has several plants, in the ground about 3 weeks before mine - has very few blossoms on his **i'm trying very hard to be patient - but these are actually supposed to supplement the grocery budget - i'm already only getting bean plants out of all the other veggies i planted this summer - bummer HELP if you can, please
2 responses

• United States
27 Jul 08
get some miracle gro it really works. Keep your plants adequately watered. make sure they are getting plenty of sunshine and other than that sit back and relax.