The Silence After They are Gone.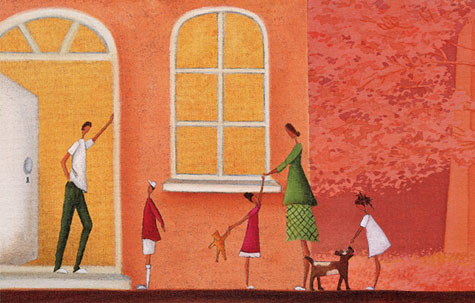 United States
July 10, 2008 4:39pm CST
Most of you know that I was expecting company from out of state, not on the forth but after the forth, and that we had postponed our 4th of July celebrations to coincide with our companies arrival. Prior to the visit my household's activities were in a whirlwind, everyone busy grooming yards the garden and cleaning house from top to bottom. If you had walked into my home you would have thought that it was the Pope coming to visit. We barley got finished with the home and hearth that our company did indeed arrive. We had two wonderful days visiting, eating and playing. There were lots of late night heart to hearts, cuddles and love to fill a life time. Yesterday morning our company left to continue their vacation in other parts of the country. We all stood and waved good bye with tear filled eyes and the hopes of a much sooner visit than this one had been. As my husband began his routine of getting back to work, I stood in my living room already missing the boisterous voices and antics of the previous couple of days. What I realized is all that preparation and hard work that seemed to a few on my "crew" needless and over the top, had been worth every stroke of the sponge, every moment with the weed eater. The time that we shared together was so short in comparison, minutes of total bliss with family, compared to hours of aching muscles from stripping and waxing floors. The thing is I was at ease for the visit; I could relax knowing my out of town family slept on crisp clean beds and sheets that they would find no dust in a corner, where they stored a suitcase. I was proud not only of my home but my family here; they worked so hard and rose to the occasion, maybe not quietly but at least wholeheartedly. Even my precious grand babies where at their charming best, life just does not get any better than this. The silence is deafening, and I miss them now more than I did before we had our visit. I spent the day yesterday reading and watching movies, rather exhausted. Tell me about your summer so far, and for those of my friends on the other side of the world how is your winter progressing.
10 responses

• United States
10 Jul 08
Angel, I'm so happy that you had such a wonderful and love-filled time. I think that the last time we talked was when you were doing all of that cleaning in prep for the visit. Sounds like you pulled it off quite well, darling. As if there was any doubt. But Angel, my summer has become a nightmare. A waking nightmare. And it's not too much better when I'm sleeping either, considering the dreams. With Robin's shocking, abominable diagnosis of cancer and the horrible prognosis, I feel like someone's turned the world upside down and shaken it. I feel like I could physically fly apart at any moment. I feel like my whole body's not holding together. So, this summer sucks, to put it succinctly. And I ain't got no hopes for it getting any better, either. I apologize for bringing this morbid, and pitifully sad comment here, Angel. But this is pretty much my main outlet - at least, while I'm alone at home. I can't seem to keep it together enough to get anything done, so I'm kinda just hanging out here a bit, off and on, in between all of the times I get up to get something or do something and I then can't remember for the life of me what it was that I wanted. But I'll invariably be distracted by something else, and when I get back here to the computer and start to sit down, I'll think "D'OH!!!!", and I'm up yet again, and the whole process starts all over again. This is the first time any of you have seen this side of me and I'm so sorry you have to see it. It's not too fun. But it's how I am now, it's the way things are, and I know that you love me no matter what. And boy, is THAT a good thing, girl! 'Cuz, the sunshiney nova is now horribly sad and if anyone's going to coax any sunshine back out, it's surely going to be you all. So, please put up with me for a while, ok? I really need you. I'm saying it. I'm putting it right out there. I just need you, my friends, my cyber-hearts, my rocks. Thank you for being here. Thank you a thousand times. XXX

• United States
11 Jul 08
My dear friend, I want to say once again, that I am as near as your phone or computer. If need be I would be in your arms as fast as the car could get me to you. What ever you need Nova darlin, when ever you need, all you have to do is call.

• United States
13 Jul 08
You both mean so much to me, and I thank you from the bottom of my heart for being so steadfastly there for me. And never fear, your phones will be ringing, both of you. I've gotten to a point that I don't know how I'd ever do without you. I love you both so much. XXXX

•
10 Jul 08
I am so pleased you had a lovely time , There is nothing nicer too than to look around your home and know it is looking its best, It gives you such a nice feeling , Take time to relax now pal and just think back to all the fun you had with your family and relive it all :) :) xx

• United States
10 Jul 08
Wee, I just read your email this morning, Gosh sounds like you had a time of it. But you know what? pain meds do that to me every time. Now if I have to take them I know its all so time for more fiber in me diet! I am just so pleased you are getting better..... Looking forward to that call from you and Mo Mo.... Can't wait! You are right about relaxing, gosh I had no idea how wore out I was untill yesterday that and I hated to say good bye. I sometimes wish we all were not scattered across the country the way we are.

•
12 Jul 08
Well Angel I am so pleased that you had a great visit and all that hard work was worth it! Having a relaxing day would have done you good especially since you don't get the chance to do that very often! Well I am missing Niall and although Niamh is feeling better she now has her foster cousin staying the weekend - my sister was here with her youngest son and her 4 foster children yesterday! Now Niamh is going to my sisters tomorrow for a while so I will be here alone when the other half is at work next week so I should be able to catch up with you if you aren't too busy! I am having another epidural on Monday so keep your fingers crossed for me honey! Big Hugs xxx

• United States
13 Jul 08
It is so good to here tht Niamh is feeling better.... If I do not talk to you tomorrow for sure we will monday when you get home from hospital, or tuesday... I am longing to hear your voice.

•
11 Jul 08
Living in my little bubble I somehow missed the fact that you were expecting company. However, all that scrubbing etc was worth it if YOU feel that it was. Your friends came to see you not wipe white gloves along your shelves! It certainly sounds like you all had a wonderful time and I know well that feeling as you watch the tail of their car go up the road and you settle back into your routine. My summer? Is it summer now? You'd not know it from the weather. Apart from one glorious week, it seems to have done nothing but rain. But it is warm so Goodie could stop here on her way to you. We are off to Singapore to see my B & SIL in September, so that will be the highlight of the year I suspect. We shall also see the F1 Grand Prix whilst we are there. So that's exciting too. Otherwise it's all quiet and I can busy myself attempting to cheer up our friends that aren't feeling so good right now. That'll teach em! Now, where's that Nova?

• United States
13 Jul 08
rotlmao, I told you Pikey one day while on skpye. Just like Man hear only what he wants to hear! I am teasing you. Actually we talked about so many things that the subject topics were just a blur... Its no wonder it went over your bubble! Our Nova Darlin, is battling a very difficult situation as I am sure you know... I think about her all of the time these days.

• Canada
11 Jul 08
Those are the best moments not matter how little they are. ANd you're right, everything is worth. I have learned that often most people in our family rises to the occasion - even if they do complain a bit - and helps out. I know we worked hard just before my mom arrived, but like you I feel that it was worth:)

• United States
13 Jul 08
Arkaf, I remember all the cleaning and rearranging that you were doing before your mom got there LMAO It is a lot of work

• United States
10 Jul 08
I know what you mean about the 'silence' after company has left, or after you have left to go back home after visiting family. My parents and sister, and youngest daughter all live 1600 miles away, my oldest daughter 300 miles away. Needless to say the visits are too far between and not long enough when we do finally get to visit each other. So far this summer I have been spending time in my backyard, catching some sun mainly, and doing some scrapbooking. Not much else I can do and I was put on medical leave from work when I injured my wrist while on the job, wildland firefighter, so it's been pretty boring a lot of the time. I have another MRI in a couple of weeks and then will see if what I'm thinking the doctor meant by 'fix it' aka surgery, is what will occur next. I'll be lucky if I get back to work this season, as we are off from mid-November to mid- March. But I'm making the best of it.

• United States
11 Jul 08
So nice to see you palonghorn, I am sorry to hear about your wrist. Its best to just do what the doctor says, as in the long run if we do not we can make matters worse. It must be hard living so far away from your immediate family like that. I would have a very hard time with it...

• United Kingdom
10 Jul 08
Mixed Weather here lol I know what you mean, every time my Daughter or Son come to visit when they leave again it is very quiet here lol or when I have had Friends visiting and they leave it seems as though the Flat is deserted lol

• United States
10 Jul 08
Gabs, you nailed it right on the head, deserted. That's exactly how I feel since yesterday...

• United States
10 Jul 08
Neh. My summer is pretty boring, unless I'm spending time with my girl. Other then that, I dont really got nothing to do.

• United States
10 Jul 08
Ho LordTimber, as long as we have Mylot we have something to do don't we?


• United States
13 Jul 08
So far mine has been great. I had been working too much so I took a little trip to Cancun for some outrageous fun in the sun. I cried when I left there. Now back to the daily grind of kids,work, and life's responsibilities. It just makes me want to sigh...