Breakfast at every meal - what a day!!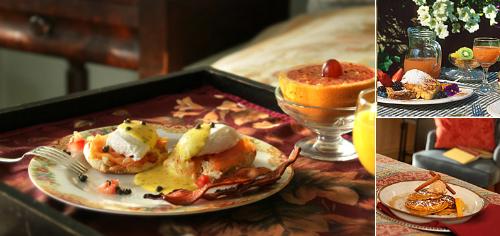 Gloucester City, New Jersey
July 11, 2008 7:50am CST
I had two interviews and had to pick up my mother's prescriptions yesterday, so it was a busy day. I left at 9:30 and got home again at 3. I had wanted an egg for breakfast, but didn't wake up in time to make one, so I had a yogurt with my coffee, got dressed and left. My first appointment was with a non-profit agency who helps the disabled find employment. That ended just before noon and by then I was getting pretty hungry. I decided to stop at the Denny's up the street and had their All-American Slam with scrambled eggs with cheese, two bacons, two sausages, whole wheat toast, and opted for grits instead of the heavier hash browns - plus some decaf coffee. Well, I have to say, I thoroughly enjoyed that meal. I eat the grits the same way I eat cream of wheat - with some butter and sweetener (used to be sugar, but I have to avoid it these days). It was exactly what I wanted without being too heavy. So, that was two breakfasts so far. Then, I stopped at the pharmacy, dropped off Mom's transfer prescription, and went to my next appointment with a staffing agency (my unemployment is 2/3 gone and I NEED an income!), filled out their myriad of paperwork, interviewed with the staffing coordinator, took their typing test (65 wpm, by the way - nice!) and left. I went back to the pharmacy who by now had plenty of time to have all of Mom's prescriptions ready and picked them up, paid, and went home. By the time I got there, I had a nice headache (being out in the heat does that) and wanted to take a nap. Well, Mom woke me at 6 (what?? wow!!) and said she was ready for supper, could we have bacon and pancakes? Well - we did! With sugar-free syrup, of course, but they did taste good. I always add a little vanilla to the batter to enhance the pancake flavor. I cooked the rest of the bacon in the pack because there wouldn't be enough left to save and I know Mom likes to have bacon sandwiches once in a while. Now she has some already cooked. So, that's how I ended up having breakfast all day. Not a bad way to go, really.

How about you - have you had a day where, for whatever reason, all of your meals were either the same type or broke with tradition in some way? Tell us about it.
4 responses

• United States
12 Jul 08
Sounds right up my husband's alley, he is a breakfast lover.. I normally do not eat anything until at least 3:00 or 4:00 in the afternoon.. He isn't supposed to be eating the sausage or the bacon but he does anyway.. He always has to take his meds in the morning, so he eats a good breakfast every morning.. Occasionally, I do like a breakfast in the evening and I do mean a big good southern breakfast.. I always fix biscuits, sausage gravy, sausage, bacon, eggs, grits, hash browns, sliced tomatoes, honey and jelly.. We eat like Kings when I do this but it is only on certain occasions, as he isn't supposed to eat like this.. When we do this he has 2 breakfast in one day and is in hog heaven.. Have a great day..

• Gloucester City, New Jersey
14 Jul 08
It's probably best that he eats if he has to have medicine then - it's not good to take medicine on an empty stomach, unless they say you need to. I recently began to make sausage gravy with the sausage we buy at the Amish market. It is so yummy!!! But, unless I'm making it for supper, I don't make or cook biscuits (cook because I've never made an edible biscuit in my life! LOL) I like it on my buttered toast or by itself to dunk my toast into. My father used to eat it on pancakes instead of butter and syrup. Now, sliced tomatoes - we don't do those for breakfast, although I'm sure my mother would enjoy them. They're also very British (who also serve beans for breakfast). Also tomatoes in Ireland. Bacon - yum - meaty, smoky, extra crispy bacon!! Now for the honey, if you take one of those biscuits raw and deep fry it, I'll pop a hole in it and put some honey and butter in there and be in heaven!!

• United States
15 Jul 08
You make it all sound so good, but you never know what you are missing if you don't try a good juicy slice of tomato on a hot biscuit, it is so good..

• United States
11 Jul 08
No, but if I did, I would want it to be breakfast. Breakfast food is delicious, and I don't know how people can go without it.

• Gloucester City, New Jersey
14 Jul 08
Well, I don't always eat breakfast, the meal, but I thoroughly enjoy breakfast, the food!!! Sometimes I'll even eat dinner food for breakfast, but if we go to a diner, there's just something about being in a diner where I crave breakfast food (or Denny's or Friendly's). I LOVE cream chipped beef gravy!! It's so yummy - but, they never serve it with eggs, so I always order a scrambled egg with it. Don't really know why. But, it seems so lonely without an egg.

• United States
11 Jul 08
It sounds like you had a very full day and your lunch sounds so good to me. I can't remember if I have ever had a day where all my meals were sort of the same type but I might have at one time or another. I do know after reading this I am hungry for fried eggs....yummy

• Gloucester City, New Jersey
14 Jul 08
That was me - I just wanted some eggs so bad, but didn't wake up soon enough. So, by the time lunch rolled around, I was ready for them. I don't like fried eggs, though. Even Eggs Benedict, I'll ask them to scramble them. I have eaten Egg McMuffins, but I think it's because there are so many flavors on them and the eggs are cooked hard. My daughter loves over easy eggs. I won't eat them or soft boiled or even hard boiled. I just like scrambled. :::sigh::: I don't know about me. It's a good thing my parents liked hard boiled eggs or I'd have had one sad Easter when I was little!! LOL

• United States
11 Jul 08
That sounds like a fun day, as far as the eating goes anyway. I have never had a day when I have eaten the same meal all day except when I had waffles for lunch, then at the cafeteria they had pancakes, syrup, waffles, french toast, bacon, sasauge and orange juice, then for a mid-day snack I had a cold pancake in the fridge with no syrup. That was fun!

• Gloucester City, New Jersey
14 Jul 08
Sorry for the delay - I got so carried away lately, I didn't realize I hadn't commented anyone on this yet. Yours doesn't sound so different from mine - you just went about getting them in different ways! But, breakfast is good - tasty. It's a pleasure to eat whenever, although every meal, every day wouldn't be good. I know that.