My daughter got married today.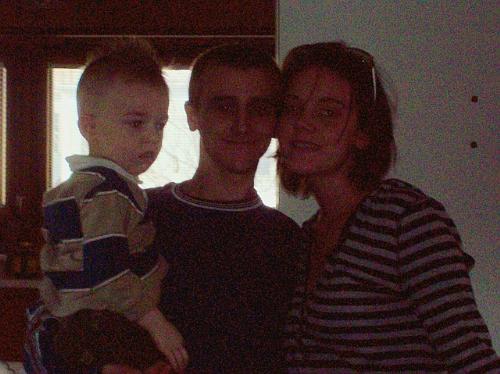 United States
July 11, 2008 6:56pm CST
My daughter got married today. I was not able to attend the wedding. Emily is just 20 years old. She drove to Ft. Knox, Kentucky and married her boyfriend (who got out of boot camp (Army) today). I was so frustrated that I could not attend the ceremony. It was preformed by the Justice of the Peace in Elizabethtown, Kentucky. She did call after the ceremony and we both cried. I talked to her new husband. We cried together, too. My grandson, Caleb held his mother's hand throughout the ceremony and was dressed in a little Army outfit. Oh, how I wish that I could have been there. Has there ever been an important event in your life, that you could not attend? Did it frustrate you to no end? I am still in tears.
7 responses

• United States
12 Jul 08
My oldest daughter is 21, she is about to give birth to her first child, my first grandchild. My daughter is a special needs child, high functioning learning disabled. Her baby has massive fluid on the brain and is in danger of not surviving, the minute she's born they are performing surgery to drain the fluid. My daughter lives 900 miles away, there is no way I can be there with her. She is 3 weeks from her due date, has to deliver the baby 100 miles from where she lives, has begun dialating and is supposed to be having a c-section. All I can do is sit by the phone and wait till someone lets me know the latest. I do understand your frustration, I would do anything to be there for her but I have to support the kids that are still home with me and I only get so much vacation time, I want to be there when she needs me most and that is going to be after her little girl is born not before. Knowing all this doesn't change that I feel so bad while I cary my cell phone around everywhere I go waiting for it to ring.

• United States
12 Jul 08
My frustration seems kind of foolish compared to yours. I hope that everything works out for your family. Welcome to MyLot!

• United States
12 Jul 08
Oh I do so hope you didn't feel I was trying to make my situation worse then yours. I was merely trying to relate the fact that yes I do understand the frustration of missing out on the major events in the lives of a child. Your frustration with your situation is no less significant then mine, you have every reason to be sad about missing your little girls wedding, I would be as well.

• United States
13 Jul 08
You didn't make it sound like that. It just made me look at mine more carefully. :-)

• United States
11 Jul 08
I think that is so sweet my husband is from Kentucky to he is in the marine station in Jacksonville NC.. We meet her in north carolina and got married we have been married for three months now and everthing is going great...

• United States
12 Jul 08
Well, congradulations to your daughter. It sounds like she is happy. I will see Emily this week. Her husband has to go for 10 more weeks training. She is just so young...

• United States
14 Jul 08
First off..congrats! Secondly...Awwww...I am really sorry that you didn't get to be there and share that special event with her....dang it! My son is getting married next month and I would be beyond upset if I wasn't going to be there. It is one of the milestones that every parent looks forward to. Hopefully your daughter took alot of pictures that she will share with you...I know it's not the same, but it's something.


• United States
17 Jul 08
She didn't get any pictures. I got to talk to them right after the ceremony. They are supposed to conduct another ceremony for family and friends. Congrats to your son!

• United States
13 Jul 08
Congrats on your daughters marriage. I can understand how you feel, we as mothers want to be there and share very special occasions with our children and it makes us sad when we can't share the event.

• United States
13 Jul 08
I am glad that she at least had the baby there with her (2 yr old, Caleb).

• United States
12 Jul 08
My son was recently married, I wasn't there. He had some business to take care of downtown, his girlfriend had went along with him. They went and got married without telling anyone. My son doesn't like to make a big fuss about stuff. My daughter in law came home and said they had something to show me and tell me. They had the license in a frame. She sat on my lap and told me the news. I had tears too, I am really happy that they got married. Sure I would have liked to been there, but it doesn't bother me that they did things their way. Maybe someday the can renew their vows in a church and have a party afterwards.

• United States
12 Jul 08
Emily and Bryan are talking about having a wedding before he gets stationed somewhere. Kids do things the way that they want to, don't they? lOL

• United States
12 Jul 08
First, congratulations on having a new son-in-law. As a mother myself, I can see where it would be frustrating to miss this important event! I do think it says one thing though, it says that to her and him the marriage is more important than the ceremony, and they're willing to forgo that for the sake of love. Bless his heart for giving his time to the service of our country, that also says something good about him...especially since he enlisted and there's no drafting these days. I wish them the best of luck, and I'm sorry to hear that you had to miss it. I missed my Mother's last day on earth. She and my father had always wanted a trip to Florida. Since she had a disease that was going to claim her in the near future, we all chipped in and my one Aunt and Uncle drove them down there. I stayed home to take care of the animals on their farm, their house and pets, etc. After they had been there for almost a week she was admitted to the hosp as an emergency. Dad called and I could find noone who knew how to take care of the milking cows and horses. So even if I could have flown down there she would have been gone before I could get there. Somehow this always makes me sad to think of it, it's always frustrated me because there was nothing I could do and I could not be there in her last moments. 32 years later it still bothers me somewhat. One good thing though, although strange, is that an hour after hearing my Mother had passed, I got a phone call from my Dr that I was pregnant with my first child.

• United States
12 Jul 08
They say that when one window is closing, that God is opening a new one.