Are you a large breed lover or small breed lover?

United States
July 12, 2008 8:47pm CST
I have both I love both of my furry babies equally but I realize that some people love small breeds and some love large breeds. I own an Akita, a very large Akita and I own a miniature daschound what he lacks in size he makes up for in heart. Our Akita is extremely intelligent, beautiful and very very loving. Our daschound is extremely loving, very very loyal, and very intelligent also. They are not pets to us they are members of our family. So which do you like? Which do own? What breed do you own?
8 responses

• United States
13 Jul 08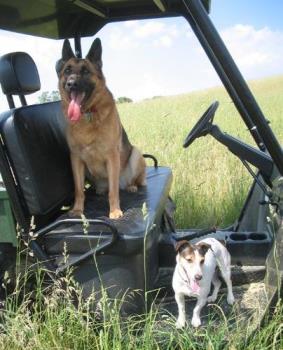 I like the larger breeds, and especially partial to German Shepherd Dogs. Little breeds tend to irritate me with all their yapping and getting underfoot. My husband had a couple of Jack Russels and they were ok, but I wouldn't get one for myself. Here's a pic of my Rose (Rosie), who went over the Rainbow Bridge last August, with my husband's Joe.

• Australia
13 Jul 08
Beautiful Pup! German Sheperds are great dogs! Ain't no yapping coming from a Big Dog. How about those little things that always yap, even though you could finish them with one step? They still want to go you? Were do they get all this Dutch Courage from? At least when my dog barks people listen to the warning. He has the muscle to back it up! But even still little Jack Russels want to start something! I just dont get it...

• United States
13 Jul 08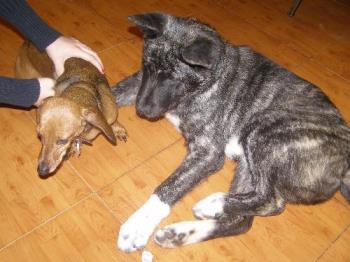 So sorry you lost your girl Rosie. She was beautiful! I love german shepherd dogs! My Akita is getting o be quite the beauty! Oh and my little guy is not a yapper at all. He only barks (and he doesn't have one of those annoying barks either) if someone comes to the door other than that he is not one for barking. Here is a pic of my babies.

• Australia
13 Jul 08
The bigger the better! I have a 2 year old mastiff/great dane. He is as big as me nearly, and eats about $10 worth of food a day. He is as clumsy as me, and could easily handle any man falling on him! But I also love all dogs, big or small. I step on little dogs a LOT more often though! I agree that your pup should be a member of the family too. They have feelings, and only too often I catch out people treating their pets as an accessory. Made only for them. Please don't forget people, your dog just sits all day waiting for you. Its pretty mean to not spend some time with them each day! Think from your pets point of view.

• United States
13 Jul 08
Wow I bet your baby is huge! I know if we leave the house to go wherever our Akita acts like we were gone forever and she has to love us love us love us. Even if it was just 5 minutes it is like an eterny to her.


• United States
13 Jul 08
I love both. I dont have a dog now because I am gone way, way too much and it would be so unfair to the dog. The best dog I ever had was half doberman and half german shephard. He was so smart and so loving. He was excellent with children and he loved to play hide and seek with me. I really miss him.

• United States
13 Jul 08
I prefer larger dogs and will never have a dog under 30 lbs. Smaller dogs are too easy to hurt when you trip over them or accidently step on their foot. I also don't like the temperament of most smaller dogs. Since I'm clumsy, having a dog that can tolerate me falling on them is very important!


• United States
15 Jul 08
I prefer larger breeds such as (a list of my favorites): 1) Newfoundland 2) Mastiff 3) Great Dane 4) St. Bernard 5) Greyhound 6) Irish Wolfhound 7) German Shepherd In the large to medium arena, my preferences are: 1) Australian Shepherd 2) Border Collie 3) Blue Heeler My reasons for these choices: 1) Intellect 2) Temperment 3) Work Ethic 4) Breeding 5) High Level of bonding with humans 6) Physical Appearance

• Canada
14 Jul 08
I don't own dogs but my mother and sister both do. I like my sister's little daschunds much better than any larger dogs. My moher has a dog that's part husky and part wolf. He's friendly enough and I love him, but he tends to knock me oer when he gets excited. I like the little ones better because they don't knock me over.