have you bought something for yourself that you're really proud of?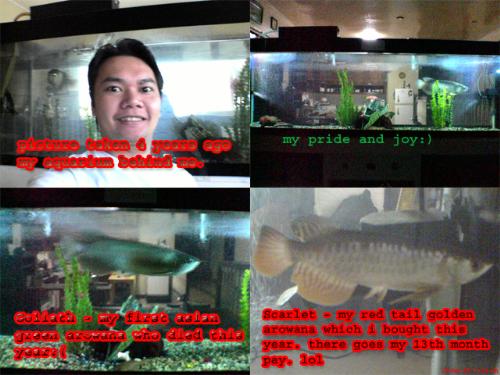 Philippines
July 14, 2008 6:21am CST
hi everyone, have you bought something for yourself that you're really proud of until now. first of all i am not a rich person who can buy anything that i want.i'm just a simple man with a simple job. when i got my first job, i was earning just enough. i'm still living with my parents during those time and i give some of my earnings to them. after a year, i want to buy something that i know will make me really really happy but requires careful planning and lots of money. i saved 3 months of my salary. i hired my uncle to built the cabinet that will actually house IT. after 2 weeks it was done. a 7 feet customized aquarium. after a week i bought my first fish. Goliath which was a green asian arowana. he died just this year and i really felt bad, even made a discussion about that. anyway, having to actually have this aquarium setup is my pride and joy. everytime i visit my parents house and see this, i know i bought something that really shows how hard working i am. i know this is something that i will never regret to have bought. just looking at it makes me smile that i did something right. this will always be a part of my life that i know that some dreams do come true.
5 responses

• Lapu-Lapu City, Philippines
14 Jul 08
I wanted to buy a house, that someday I can call my own. But still a long long way to go. The only thing that I can be proud of, despite being poor (I am still a little above the poverty level, because we still can have three meals a day, lol), is my motorcycle. This is very helpful in my daily work and in some other weekly tasks like shopping for our weekly consumption. Actually, this motorcycle I loaned for 3 years. And it is already fully paid.

• Philippines
14 Jul 08
i bet everyone wants to buy a house that they can call their own. it's one of my long term dream too. maybe it will take me a while...hmmm with the price sky rocketing, make it more than a while.lol. good thing you have some means of transportation. i was also planning to buy a motorcycle since i can't afford to buy a car. but my girlfriend was against it. well i guess commuting will still be a part of my life for a long time. nice respond from you though:)

• Philippines
14 Jul 08
I have had several purchases since I started earning my own salary. Most of them I am really proud of. One of the latest purchases that I am really proud of is that one which I shared with my parents. We bought a parcel of land as an investment. It's a 400 square meters parcel of land which is good for either residential or commercial purposes. It was a 50-50 share. I am really proud of that!

• Philippines
14 Jul 08
I have my own pc.I bought my own cellphone and watch from my hard earned money..hehehe.We have some things that we bought together...conjugal properties hahaha.Well withour the computer we can't access mylot.lol.I am proud of my aquarium as well. Well how I wish we could buy a house as well.Then car will follow.lol.