Big Brother 10: Scoopage...

United States
July 14, 2008 9:46am CST
Let the scoops begin! Do you want to know who won POV and whether it was used? I can tell you! It looks like Jerry won it and he took someone off but, I haven't been able to see whom just yet. But, whomever he took down, he replaced with....Brian! There you go Plunk! You might be getting what you want pretty quickly in this game! How do you feel about that? LOL! Any thoughts? Any other info to add? I am only just getting started on my feed updates on www.mortystv.com so, I might get the skinny on it all in a few minutes or a few hours. If I find anything else out, I'll let you all know. If you know more than me, please lend a hand!
6 responses

• United States
15 Jul 08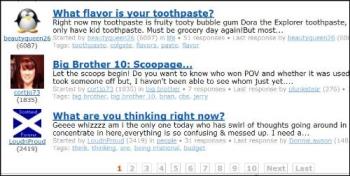 I'm so far behind on everything Big Brother. And I really like that show too. Oh, just wanted to mention that your discussion made page one for top discussions just now!Check it out!

• United States
15 Jul 08
I'll do what I can to try to keep you from falling too far behind on everything BB! And, thank you for pointing that out about my discussion! That is awesome! I don't think that has ever happened to me before! I needed that. It has been a really rough past week for me and, I need a little boost! Thank you so much!

• United States
14 Jul 08
Wow--- that was quick already! I'm surprised that Jerry won and put up Brian-- Brian was the one that talked him into putting up those 2. I hope he did not take the annoying New Orleans woman off - Reeni (maybe). I'm not great with the names yet. I can tell you so far I like Michelle-- I like her spunk and her attitude. Dan- He is cute- and something about him I like :) Brian--- I like him too- that is why I'm surprised that he is up now :( I'm not big on Reeni, April, the mixologist guy (forgot his name), or the muscle man-- he opted out quick of the competition! Didn't like that. I'm sure with the next show I'll get more of a feel for everyone- and decide who I want to win-- these are just first impressions. Can't wait to hear more!

• United States
14 Jul 08
Renny is the woman you are talking about. And, she is still on the block. He took Jessie down. And, I can't remember who is who just yet either. Only a few have stood out. I have to disagree with you about Michelle. I do not like her! LOL! Sorry! As for the rest, I just don't know yet. I know I don't like Renny. I think I like Jerry...thus far. But, no one else has really swayed me either way. But, I look forward to getting to know them better. BTW...Libra and Michelle seem like they are two big time trouble makers thus far. That is based solely on what I have read on the feed update site I visit.

• United States
15 Jul 08
lol--- I always like the trouble makers- Michelle seemed real nice in the first show- and I liked her because of her attitude... But if she is causing trouble-- then I don't know- I wonder why he took off Jessie and put up Brian- I like Brian! Can't wait to see the show tomorrow :)

• United States
14 Jul 08
As long as Remmy goes ill be happy but Im betting she will stick around for a bit just to annoy us lol. I gotta go start reading the feeds myself Ive been so slow going this morning.

• United States
14 Jul 08
I read on another site that, while it is yet unconfirmed, it looks like Jerry took Jessie off to put Brian up in his place so, it might be Brian and Renny on the block. And, it also looks like Michelle is the reason that Jerry went against Brian and put him up. I don't know what, why or how. But, apparently, Michelle lied to Jerry about something Brian did and, that is why he is on the block now. It is already getting spicy in that house! LOL!

• United States
14 Jul 08
Oh please please please let Remmy go lol. First few days and already backstabbing this aught to be good lol.

• San Marcos, Texas
15 Jul 08
Was so excited to watch last night and still learning their names but its good to see Renny and Brian up there..watch a bit of Showtime after dark then fell asleep so will see more tonight..haven't seen the feeds yet so thanks for cluing me in! Jerry sure is asking for trouble already..most want renny out so it was stupid to take someone off already..now if Brian stays..Jerry will get out soon...even though i'm sure the diary room will talk them into keeping it exciting to watch. Libra looks like she's so sure of herself cause she has twin's that look nothing alike and was trying to explain how to cook to keesha last night..Ollie looks like the promise he gave to his parents will end soon hooking up with these guys...lol Mole's tonight..yea!

• United States
15 Jul 08
First...I like your new avatar! I am happy to see Renny up there but, I don't have a bad opinion of Brian just yet. So, I am not sure what I think about that. And, from what I have read, Brian has a few people in his camp but, it looks like the majority might want him out over Renny. So, he might be leaving this week. But, it was most definitely too big of a move for Jerry to have made as the first HOH. Also, it shows he can be easily swayed. You want to come across as a little less wishy washy and therefore a little more trustworthy and, I think that by changing his own nominations, he showed that he can too easily be influenced and, that can't help him in the future. From what I have read about Libra, she stirs the pot and ticks people off so, we'll have to see how long she can keep her butt in that house with her over-confidence and pot stirring. Ollie is turning out to be a little less than the pure heart he likes to sing his own praises for! LOL! I am disappointed that Alex got the boot from The Mole last night. Mostly because he was the only one I didn't suspect. But, also because I liked him. He was fun to watch.

•
14 Jul 08
He took Jessie off. The two on the block are Brian and the annoying woman.

• United States
14 Jul 08
I too just read a little in the bois before the game started just to see what the house was going to be like and I thought Renny would be pretty fun to watch but he just annoyed me. I think Jerry is doing too much too soon. He is going to make himself a target right away. For someone who says he never missed a show he sure does not play like it. I don't have a favorite yet. I will be sure to check in here often to get the scoop. Thanks a lot Cortjo.