When is it ever going to happen?

United States
July 14, 2008 2:18pm CST
My youngest daughter is 6 years old (she'll be 7 in 3 months). Her cousins and her older sister all lost teeth before they hit 6 but my daughter STILL hasn't even had a wiggly tooth. She is kind of bummed out because she wants her first visit from the tooth fairy, too. I don't know what to tell her or when to expect her to lose her first tooth. Is this normal? Have you ever experienced this yourself?
5 responses

• United States
14 Jul 08
My six year old just lost his first teeth. He lost 3 teeth in a period of 4 days. First was eating a piece of pizza, second one was eating a doughnut, and the third him and my husband were horsing around and it fell out. Maybe you could get her to eat alot of apples. At least if the teeth dont come out, she'd be eating really healthy!

• United States
14 Jul 08
RD, That's the problem...she eats apples almost daily. At her last dentist appointment they said her teeth were very healthy...I hope that means that they are healthy and will fall out "eventually". LOL!!! Her older sister even accidentally elbowed her in the mouth when they were playing on the trapoline the other day. And, sure enough, all that was there was a little blood but no wiggly teeth :P I hope that some day soon she will be able to get her first visit from the tooth fairy LOL!!! Thanks for the response :D

• United States
15 Jul 08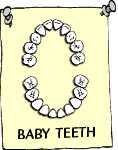 That is pretty old to still have not lost any of her baby teeth. My kids were all early teethers and got their first teeth at like 4 or 5 months old. They all lost their front teeth by five years old in their Kindergarten photos from school. She must have very strong teeth. I know sometimes some of my friends had to take their kids to the dentist to have the baby teeth extracted. Also, I have heard that if you have the dentist remove the teeth that they come in straighter. I do not know if there is any validity to it or not. You might want to check out this website. It seem to be pretty thorough in its explanation of anatomy and development of the mouth and teeth:http://www.chw.org/display/PPF/DocID/22143/Nav/1/router.asp But according to that website, you should expect your daughter to begin losing her primary teeth (baby teeth) around the age of 6. I hope this helps you in this dilemma.

• United States
15 Jul 08
Schulzie, I will definitely read up on what they have to say. I'm hoping it means she has strong teeth or that it could be hereditary. I know her father didn't lose his teeth very early and I personally still had baby teeth when I went in to get my braces fitted. So if I get too much more concerned about it I will take her to the dentist and see what they have to say. Thanks for the response :D


• United States
15 Jul 08
I, too, had to have baby teeth pulled out when I was fitted for braces. But I still lost my first tooth like a normal child before I was 6. Maybe it's a hereditary thing. I don't think her dad lost his teeth that early. So it could be that reason that she isn't losing them. I guess I'll have to do more research on the subject. Thanks for the response :D

• United States
14 Jul 08
Wow, that's rather late. Did her teeth come in late too? My twins won't be 6 until November. My daughter has lost 4 teeth, and 3 of them are fully grown back already. My son has lost 2 or 3.. and they're still growing back. My oldest just turned 11 and lost the last of his teeth, but he began losing them when he was 4 years old. Oh, and the baby just got his first 2 teeth, he's 6 months old.

• United States
15 Jul 08
My daughter's teeth came in at I think 6-7 months old. I would assume that she would start losing her teeth by now. My oldest daughter got her first teeth in at 9 months and still started losing her teeth before the age of 6. I hope she will be losing them soon. You would think with her being born on Halloween and just the thought of candy would make her teeth fall out LOL!!! :P Thanks for the response :D

•
14 Jul 08
I think it's normal because my son's milk teeth are still complete and in good shape.My eldest lost her first milk tooth at the age of seven.With the youngest....she's very fond of eating sweets...so more or less she'll loose it earlier.You just have to check every now and then her gums...be on guard with whitish thingy on the side,it might be the permanent tooth trying to come out somewhere.Visit the dentist for any advice or maybe have the milk tooth extracted.Good luck!

• United States
15 Jul 08
Misty, The dentist says her teeth are perfectly healthy. I am assuming that means that she is right on schedule for her mouth. Let's hope so anyway. I will definitely check her mouth for any adult teeth trying to push through and if there are any concerns there I will ask a dentist. Thanks for the response :D