green tomatoes

United States
July 14, 2008 5:23pm CST
I am really disappointed thus far with my tomatoes. I dont have a red one in the bunch. I thought I picked a location which had enough sun, but we have had a rainy summer so far, and it's been cloudy most days. Does anybody have any gardening tricks to help tomatoes turn red?? I picked one and brought inside still green.
7 responses

• United States
14 Jul 08
Ours haven't started turning yet either but we have our eyes on some green ones that are just about big enough for frying.

Our peppers aren't doing so well this year for some reason and a lot of people I've talked to are having the same problem with both their tomatoes not turning red yet and their pepper plants not being very big or bearing too well. Must be the weather or something.

• United States
15 Jul 08
I know I'm mad. I have gotten one pepper so far. I think the tomato plants are kind of dwarfing the other ones.

• United States
15 Jul 08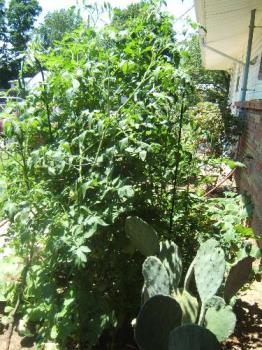 My tomatoes are starting to turn red. I have many tomato plants, but you should see the one I call "tomatozilla". It's over 6 ft tall. It's the beef steak variety. I was waiting until they turned red before posting a discussion about it, but I'll give you a sneak preview. I'm going to try an upload it for you here at myLot. Lloyd

• United States
17 Jul 08
Thank you for the "best response". What do you think of my large tomato plant? Have you ever seen one this big? Lloyd

• United States
15 Jul 08
I am having the same issues. I have a ton of green tomatos. Mine get direct sun all day long just about so i dont know why they arent red yet. Mabey im just be impatient.

• United States
15 Jul 08
Hang in there. We live in Maryland and it has been a slow season. My DH even put some tomato plants in the greenhouse and we have only had one red tomato so far. Our cherry tomato's are just starting to turn red. If you pick them and put them on a sunny window sill they will ripen for you. '

•
10 Aug 08
Well, if they never turn red, you could always use them to make green tomato chutney


•
10 Aug 08
http://www.bbc.co.uk/food/recipes/database/greentomatochutney_8201.shtml

•
4 Aug 08
If you have a ripened tomato at any time on one plant, try to move the plants closer as this will help the others turn quicker. Alternatively place a store bought one at the base of one other plants this will do the same. I vaguely remember that the reason it workes if it gives off something one ripened that tells the other to turn. You can do this in a cool dark cupboard if you have to pick them before the have turned. I had an awful time a few years back! Theres a great recipe for green tomato spaghetti below if all else fails you could also make chutney! Pine nuts green toms with a little blush if poss virgin olive oil garlic cloves minced (to your taste) pepper flakes toast pine nuts in oven - 325 degrees for about 12 mins, allow to cool Slice the tomatoes very finely and place in a bowl. Combine all other ingredients with sliced toms. Cover and leave for an hour or so at room temperature. When ready boil spaghetti just before the spag is ready season the tomatos with salt and peper, tear the basil leaves and stir in to the mixture. Toss the spaghetti and sauce together and sprinkle with pine nuts.

•
21 Jul 08
Oops, I've just posted a very similar discussion. I've got lots of tomatoes but they've been green for quite a long while now, and I asked if anyone could help me with this or if they had any ideas. Sorry for posting such a similar one, I'll have a look at the answers that you've got too.