Only 8 movies till date that WILL SMITH has acted???

India
4 responses

• India
15 Jul 08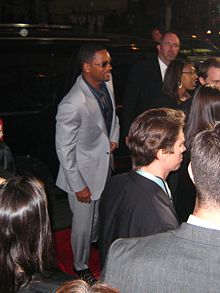 Hi. That can't be true. I have myself seen 9 to 10 movies of Will smith and I don't think that I have seen all of his. I can name at least nine here right now. Independence day Man in black 1 and 2 Bad Boys 1 and 2 Hitch Hancock I am legend I robot You can look for the list of Will Smith movies on Wikipedia.

• India
15 Jul 08
Thanks ccolmailraj its really great information dear.I will post all the movies of will smith once i get them.Cheers MOIN

• India
15 Jul 08
It cant be true... I just now checked wikipedia... and he has acted in so many movies... about 20 or more...

Maybe you are mistaken...

... Will smith is the only actor to have 8 consecutive films gross over $100 Million in the domestic box office... I saw about 7 movies of him... He is too good.. for the role he plays in any of his movies...


•
15 Jul 08
In these situations the best place to go is www.imdb.com its a database of every cast and crew member for every major motion picture thats been and is being made. Here's its list of will smith films: Hancock The Pursuit Of Happyness Hitch Shark Tale I, Robot Bad Boys 2 Men In Black 2 Ali The Legend Of Bagger Vance Men In Black Wild Wild West Enemy Of The State Independance Day Bad Boys Six Degrees Of Seperation Made In America So Whoever told you he'd been in 8 was way off.

• United States
15 Jul 08
According to Yahoo movies he has been in like 21 movies and produced many movies too. I had to research it because 8 seemed like it was awfully low.

• India
15 Jul 08
Please lemme know dear.8 seems to be too low for me also.

• United States
15 Jul 08
I'm sure that it has been more than 8. I haven't seen all of his movies and I am sure that there is somewhere that you can check it out. He is a good actor and I think anything he is in would be good even if the movie isn't that good!! He has played a wide variety of characters, so he does different kinds of movies.

• India
15 Jul 08
Hi idowrite i too believe he is a great actor and should have acted in more films than 8.If you come across just let me know and if i find i will post here.Cheers Moin.