My Kids - Feeding the Homeless (The Proud Parent)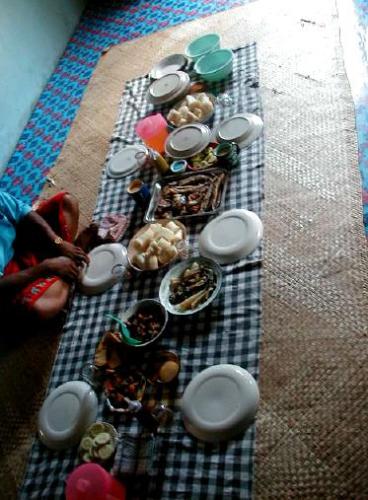 United States
July 15, 2008 9:14am CST
My 2 older children 15 and 12 left Yesterday to go to the city to help feed the homeless downtown. They went with the Youth group and with another church from the city so I know that they will be ok. What I am really pleased with is that they were both very excited to be able to do something like this. It is a wonderful feeling to know that your children enjoy helping others. At a church I pastored we had started a food pantry that would feed the hungry all year. It was a wonderful opportunity for my kids to get involved with helping others. What ways have you encouraged your children to help others or if you do not have children what ways have you chosen to help others?
4 responses

• United States
15 Jul 08
You're kids are cool. I'm glad that they take great pleasure in helping others out. I like to help out people day by day, it won't always be the homeless though. At one Job I had, I helped a Mom shop because her three younger kids were being brats and she needed someone. I helped her out to her van too and she offered to pay me, but I told her I wasn't about to take her money and to have a good day. My Dad helped out at the newest soup kitchen our city has recently renovated to hold a larger staff and more people to sit and eat.

• United States
15 Jul 08
That is great to hear that your family is so involved is such things. coming from a selfish world it is truely a wonderful things to see a selfless group of people

• Canada
15 Jul 08
One time in the winter we were visiting some friends who lived in downtown Montreal. We drove by this woman on a corner near their apartment and she was obviously homeless. We made spaghetti for supper that evening and after it was ready my boys (about 6 and 7 at the time) asked if they could take a plate of food down to the woman. They did so, but by that time she had gone somewhere else, so they brought it back up to the apartment. My friends and I and the boys were all rather disappointed but it did not keep me from feeling very proud of my boys for thinking of that. In our own area, we have several food pantries and my family has both contributed to and used the services of them. It's a very hard thing to break one's pride and ask for help sometimes, but it is a real blessing to know that people do care and contribute to these places. I usually try to take something at least once a month. At times we have had to go every week for help.

• United States
15 Jul 08
Very good point kbk. We too have had to use a food pantry for help. I believe it gave us perspective so that we are able to minister to those in need. I am very happy to hear what your boys wanted to do.

• United States
15 Jul 08
I think it is great that your kids are doing something like that. My oldest is 8 years old. He is always wanting to do things to help others, but living out where we do the number of things he can do is limited. I bet he would enjoy doing something like what your kids are doing to help people when he gets a little bit older.

• United States
15 Jul 08
It is a matter of helping to take their focus off of themselves and putting it on others. Of course the best teaching in this area is if you yourself do just that and make that a part of your life. Thanks for the response.

• United States
15 Jul 08
I think this is wonderful. What a terrific example to set. My daughter is not yet 5. When she is older we will do something similar. Right now we get her involved inpickingout the cans for the boy scout food drive.

• United States
15 Jul 08
I think anyway we can help our children think of others it is a good thing. So many times in todays society we tend to concentrate on ourselves too much.