Recycled Wastewater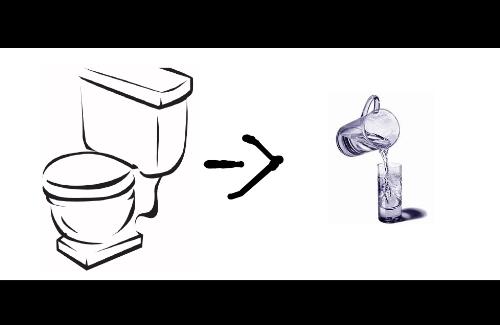 United States
July 15, 2008 11:19am CST
How would you feel about drinking Recycled Wastewater? * We are facing serious to crippling droughts in various countries including the United States. Many local governments are considering using that which we flush to augment our water supply. Recycled water is also being used to refresh underground water supplies and to irrigate crops. * Recycled wastewater goes through an elaborate process to make it usable for water glasses. * To make waste water suitable for dumping into rivers or the ocean, it undergoes the following steps. * * Big stuff like tree limbs are removed. * Coffee grounds and other granulars settle out. * Chemicals are added to encourage gunk to clump and settle out. * Bacteria are added to break down poo. * To return it to the water glasses of the American public, it undergoes further treatment: * * Sodium hypochlorite is added to disinfect the water, which then goes through microfilters. * The water is treated with reverse osmosis, a process used in some home-water filters, to remove dissolved contaminants. * Finally, hydrogen peroxide is added and the water is irradiated with ultraviolet light to removed the last of the organics. * This treated water is said to be cleaner than the original water. Note that this is not where the diseases in crops are coming from (tomatoes & spinach are examples) They are grown on ground and in contact with pooping critters in some cases like cows and frogs.
2 responses

• United States
15 Jul 08
If you've been drinking anything other than spring or well water, you've been drinking recycled sewage water!

Most water in the US doesn't come, unadulterated, from mountain springs and lakes, as you might think. Sewage treatment plants clean things up and pass it on to water treatment plants that clean it up further. This has been going on for years and years and years, and the facilities are quite fascinating, if you can get past the smell. If you get water reports from your water company or city, you'll see that there are numbers describing the number of 'coliform' bacteria in water samples. 'coliform' is basically a more polite way of saying 'poo bacteria'.

• United States
16 Jul 08
Recycled waste water is something I, as a desert dweller, have had to learn to live with. But even so, streams, rivers, or any other life form filled body of water is full of poo too. * Fish let 'nature' call no matter where they are in the water. They aren't the only animals living in or on the water we drink. Beavers, skunks, and raccoons have been known to do the business in water. * Well water has lots of microscopic poo depositors known as bacteria or other microscopic life forms. Cave streams have lots of blind fish, shrimp, and whatnot.

• India
15 Jul 08
I can not think about drinking recycled waste water. But it may happen in future due to the climate change and pollution. As of now I can not support the idea even it undergo many cleaning processes.

• United States
15 Jul 08
It is an icky prospect isn't it? We in Arizona have been forced already to this solution as water is rare here.