What's the most expensive gift you've given your partner?

Philippines
July 15, 2008 11:59am CST
erm..think about it. The most expensive gift i've given to my partner was worth 500 Philippine pesos...which is about $10 only.. well, that already cost me a lot actually. I've been earning for it for 2 months from what my mom gives me. I've stopped this semester that's why it took me that long time to earn for that gift. How about you? What's the most expensive gift you've given to your partner and how much did it cost you?
6 responses

• Philippines
15 Jul 08
the most expensive gift so far that i gave my bf was a bass guitar worth Php 3500 pesos. The dollar rate was equivalent only to 40 pesos so how sad...lolz. anyways, the money i've spent on that guitar came from the salary i made by being a student assistant while i was still in college. i'm happy coz he appreciates it very much. we call it "sunset" since he was playing it while watching the sunset at manila bay.

• Philippines
15 Jul 08
well that was last december 2007 currently one dollar is equivalent to 45 pesos so that means sunset is equivalent to a hundred dollars already hahahahah

•
15 Jul 08
I havent actually bought it yet, but im going to buy my boyfriend a new phone. He knows about it, i was thinking about the iPhone, but he doesnt want it now! So im not sure which phone to get him, I have until august 30th lol! But im going to buy him other things too like a fragrance, some new clothes, maybe new trainers. I think im just in buy mode lol! but the new Phone will cost me about £200 which is about $400 :S

• Philippines
18 Jul 08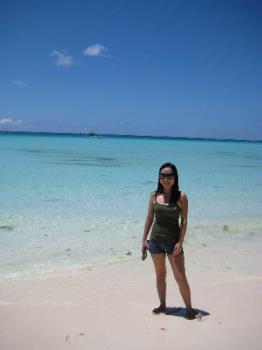 He love's to give surprise gifts for me, even if there's no occasion at all..

the most expensive one is a trip to boracay. it isn't a material thing, well, he rarely give material gifts for me.. since he knows that I love to go there, he gave me a summer gift which is to have a vacation in that place, with him of course.. we had so much fun, and I enjoyed every moments we're together. I think it doesn't matter on how expensive or how cheap, material or not. what's important is that, they give it will all their hearts, and that it makes us happy.


• United States
18 Jul 08
For our first date I bought my now husband 2 tickets for him and I (balcony seats I might add) to the Phantom of the Opera. IT WAS THE BEST DATE EVER!! Only a few months later he gave me a $1,500.00 diamond necklace for Valentine's Day. Those were the days. Now we are counting EVERY penny. But hey just a few months after that he proposed and August 12 will be our 1 year wedding anniversary.

• Philippines
18 Jul 08
The most expensive gift that I've given to my boyfriend was worth 2,000 Philippine pesos (also) or $40-$45... Actually, it is not just a gift but it's a birthday party.. I had made a surprise party for him and of course I also bought him a gift which is a pillow that has a printed picture of ours.. The pillow was just cheaper but what makes it expensive is the party itself.. Actually, it is not a grand surprise party, it's just a mini-cocktail party.. Our friends also helped me to planed this surprise party but sad to say he didn't really surprise because accordingly to him, he already knew it..

So, it is not really a surprise party...



• United States
15 Jul 08
I bought him a $300 leather jacket one year for Christmas.