my special Cheese Hotdog Pao!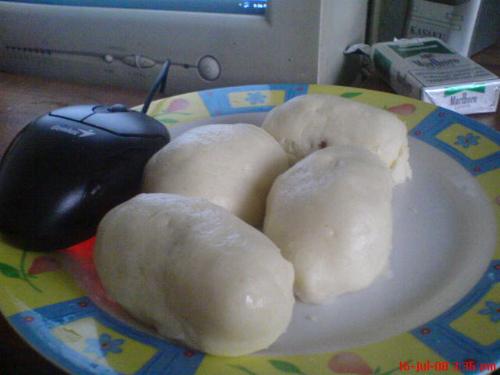 Philippines
July 16, 2008 5:13am CST
i want to surpise my girlfriend when she returns home from work. i check the ref and here are the ingredients that i saw. 125g or 1/4 of the hotcake mix left. hotdogs. cheese. how can i exactly make something out of this that will make it special and she wouldn't have any idea what my surprise is. well i experiment of hope my vision of what i expect the outcome to be will come true. because if not. food will be wasted. so i added water to the hotcake mix just enough that you will be able to knead it. i let it stay in the ref for about an hour. 3 hotdogs that are already cooked earlier are sliced in the middle to create 6 pieces. cut the cheese lengthwise. then i took the dough out from the fridge and knead it a little bit and divide it to six because i have now 6 smaill pieces of hotdogs. then i press on the dough and wrap the hotdog with the cheese and close it. i then put it in a steamer for about 10 mins. walaaa!!!! my very own cheesedog pao. please see the picture to see how big it was. it's bite size just a little smaller than the computer mouse. me and my girlfriend enjoyed it. an experiment that became a success.:)
5 responses

• Lapu-Lapu City, Philippines
16 Jul 08
You are like Mr. Chef that can play with what you have and not what you want. That is a great idea for left-overs, too. One day we'll try that at home. So pinkz loved it? Have a great day, buddy. KEEP SMILING = NEIL


• Philippines
16 Jul 08
thanks for the compliment. but just an advice though if you're really going to try it. don't be scared if you feel the the dough is too thin once you wrap the hotdog. because i was. i thought that it will not expand. but when i steamed it. it became 2x it's original size. thank God. lol. thanks for the respond.:)

• Philippines
16 Jul 08
You really surprised me baby..At the office I am actually very eager to go home..bec.you texted me that you have prepared a snack that I can't guess what it is.We have the same wavelenght but this time I wasn't able to guess what's going to be my snack.I tried to guess it using my sense of smell...it didn't work..my guess was wrong.You are getting better and better everyday..I am so proud of you..We now have the passion for cooking...I will not be surprise if SOON we can have our own restaurant business...lol... Looking forward for tomorrow..we are going to celebrate our 22nd months of being together tomorrow... hmmm..I am just curious what's gonna be the snack and the dinner tomorrow. mwah.

• Isle Of Man
16 Jul 08
wow your relationship it as old as my baby, well nearly as old, he'll be 22 months old on the 25th... i have tried accidental hotdogpao before... i was in the middle of making siopao asado when i realized i don't have enough filling for the amount of dough that came out of the recipe, so i open the fride and found some hotdogs and cheese, i thought well why not? it turned out to be yummy in the end.

• United States
16 Jul 08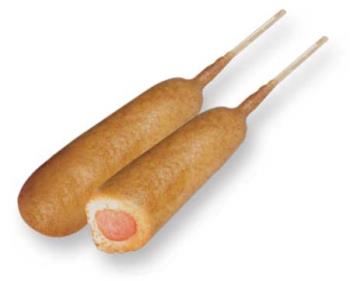 What you have described sound very good. Here in America we have something similar, The American corn dog. it is the hot dog put on a stick then dipped in a corn meal or pancake like batter then deep fried. Yours sounds so much healthier being steamed than ours which is id deep fried in a lot of oil.

• Philippines
16 Jul 08
Wow, looks real good and bite size!

That's very creative. You seem to have a talent in cooking neil. The best I've done was scrambled egg and spam.

It's not really in me to cook. Thanks for the recipe and the steps in making it. Well, I guess it wouldn't hurt to try. I'm just worried what would come out of it when I do it. Just a side note. Aha! I see something at the top right of that picture!

I'm having a hard time I admit. /sob/ see 'ya around bro!

• Philippines
17 Jul 08

ahahaha. The main course! I was actually smoking inside the house before, around 5-6 years ago. It wasn't real good as my mom and sister are with me. Sorry 'bout that bro. I don't play DOTA. I haven't tried as well.