does anyone have a great muffin receipe

Australia
July 16, 2008 8:57am CST
hi all, im just looking for someone to give me a great muffin receipe, my hubby loves muffins so i want to make them on the weekend instead of pancakes or scones.. HUGS
3 responses

• Trinidad And Tobago
17 Jul 08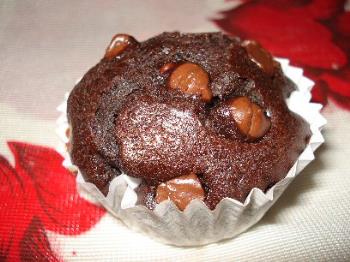 This recipe is great! In fact I am trying to decide between making these or a batch of brownies at the moment. Also looking for a good homemade vanilla ice cream recipe, do you happen to have one? Here is the recipe I use for chocolate chocolate chip muffins. It was originally for 12 muffins but I halved the recipe to 6. I also put some extra chocolate chips on top the batter in the tin before baking. 5/8 cups OR 10 tbsps all-purpose flour 1/4 cup unsweetened cocoa powder 1/4 teaspoon baking powder 1/4 teaspoon baking soda 1/4 teaspoon fine salt 1 large eggs 2 tablespoons unsalted butter, melted 1/4 cup dark brown sugar 1/4 cup and 2 tbsps milk 1 1/2 teaspoon vegetable oil 1 teaspoons pure vanilla extract 1/2 cup semisweet chocolate chips Serving suggestions: strawberry jam Special Equipment: 6 (1/2-cup) capacity muffin tin, paper muffin liners, cooking spray Preheat the oven to 350 degrees F. Line the muffin tin with paper liners and lightly coat with cooking spray. (This may seem like overkill, but otherwise the muffins will stick.) Whisk the flour, cocoa, baking powder, baking soda and salt in a medium bowl. In another medium bowl, lightly whisk the eggs, then whisk in the butter, brown sugar, milk, oil and vanilla. Quickly fold the wet ingredients into the dry with a rubber spatula. Just before the batter comes together, fold in the chocolate chips—don't mix the batter too much or the muffins will be tough. Divide the batter among the muffin cups (1/4 cup of batter per muffin). Bake until a tester inserted in the center comes out clean, about 25 minutes. Turn the muffins out of the tins, cool on a rack. Serve slightly warm with jam.

• Australia
17 Jul 08
yummmmmmmmmmyyyyyyyyyyyyyyyyyyy lol i want to try them now lol i will be making some this weekend and your one looks like its at the top of my list well hubby's list he just loves choc muffins..i have always just bought him his muffins so its great to get a recipe to make my own.. thank you so very much have a beautiful day.. hugs

• Australia
17 Jul 08
I would think muffin recipes are very basic, although some cultures like them made a certain way, helps their libido.....who knew? Chocolate chip muffins are very appealing but my boys are fond of their saturday pancakes, scones on the other hand never seem to work for me. Every time I attempt to make scones they fail to rise, but they are delicious straight from the oven with lashings of butter and jam.

• Australia
17 Jul 08
to get the best muffins you must use buttermilk.......now....where is that recipe,lol.

• United States
17 Jul 08
BASIC MUFFIN RECIPE 1 3/4 c. sifted all purpose flour 3 tsp. baking powder 2 tbsp. sugar 1 c. milk 1/2 tsp. salt 3 tbsp. melted shortening 1 egg, well beaten Preheat oven to 425 degrees. Sift flour, baking powder, sugar and salt; sift into a bowl and make a well in the center. Beat egg until light; add milk and melted shortening. Add egg mixture all at once to flour and stir only until flour is moistened and well combined. Do not attempt to beat until smooth. Remove all batter from mixing spoon and sides of bowl. With a tablespoon, fill the muffin pans half full of batter, dividing the batter evenly so that all the muffins will be the same size. Bake in a hot oven for 20 to 25 minutes. Makes 12 two inch muffins. NOTE: Smaller muffins pans may be used, making from 15 to 20 muffins. To keep muffins or hot breads warm, use a napkin or a hot bread cloth, opened, on a plate and place the muffins on it, bringing the four corners up over the muffins to keep out the cool air. MUFFIN VARIATIONS: BUTTERMILK OR SOUR MILK MUFFINS: Use the basic muffin recipe; substitute 1/2 teaspoon of soda for 2 teaspoon baking powder. Use 1 cup buttermilk or sour milk instead of sweet milk. JELLY OR MARMALADE MUFFINS: In each muffin pan place 1/2 teaspoon or marmalade and cover with muffin batter, making pans one half full. The addition of the jelly or marmalade will make two or more additional muffins. SOYA MUFFINS: Use the basic muffin recipe, substituting 2 tablespoons soya flour for 2 tablespoons white flour. BERRY OR APPLE MUFFINS: Use the basic muffin recipe, adding 1 tablespoon additional shortening, 2 tablespoons sugar and 3/4 cups berries or chopped apples. Add fruit at the same time the liquid is added. The addition of the fruit will increase the number of muffins. BRAN MUFFINS: To the basic muffin recipe add 1 tablespoon sugar and substitute 3/4 cup whole bran cereal for 3/4 cup flour. CORN MUFFINS: Use the basic muffin recipe. Substitute 3/4 cup yellow corn meal for 3/4 cup flour. Substitute 1/2 teaspoon soda for 1 teaspoon baking powder. Use sour milk instead of sweet milk.