I had become Insomniac because of Stress,But now Iam OK.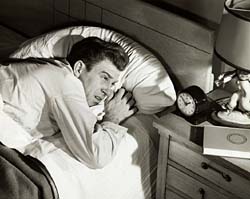 India
July 16, 2008 10:40am CST
Since my first year of work, I felt very much stressed out and later part I became insomniac.But I took advice from specialist and now iam ok.Some of them are: 1:Always think nothing is as serious as you think( To relieve from stress). 2:Take long breaths before sleep. 3:Do excercise in the morning. 4:Stay relaxed, if 80% of your stress is out then you can sleep as well. Any many more,, I think its working for me. If you have any suggestions please share because it could help me as well as many many who are insomniac( or they think they are insomniac, Many people think they are insomniac, but actually they are stressed, so stress release could be a relief)
6 responses

• India
17 Jul 08
Mine condition is just like yours and that time i receive many advice which is almost same as you listed here.one i still remember to put some water or wash your feet before your sleep to keep off negative energies from you.well i take medicine also for giving some rest that time, not now.now stress is in ok level as i do excerise regular in morning as told by docter and never forget to keep smiling as smiling is good excerise in itself.

• India
17 Jul 08
Thats a good suggestion I dint know(washing feet)..Ill tae it.But i would like to say that Iam not comfortable with taking medication coz it may effect in future(may be sleeplessness)..Anyway thanks for the advice..

• India
19 Jul 08
You have mistaken me..I was telling about medication(taking medicines) and not meditation :)..

• India
19 Jul 08
One of friends had a small basketball net in his cubicle in office and his cabin is designed in a creative way .So i just asked him the intension of this , he just told me these are all the stress buster as well as recreation and fun at office , SO literally Iam tired physically too when Iam at office and hence enjoy a great sleep at night..This is a practical solution for most of our problems both mentally as well as physically..

• India
19 Jul 08
Thats so practical solution anyone can think of ..I really liked this one..Thanks for response.

• United States
16 Jul 08

this is very good advice! Thanks it will come in useful!

• India
16 Jul 08
Thanks a lot , its actually my interest to let others know and take help.

• United States
16 Jul 08
stress will rob you of sleep. also adrenaline. i have found i have to wind down early before i try to sleep or my adrenaline keeps pumping and i either can't settle down to sleep or i don't sleep well. people have to find a routine that works for them. but of course there are times you just don't have a choice because work and household chores need to get done. sometimes you have to take a night off from house hold chores just to sleep.

• India
16 Jul 08
Yes thats true we need to work out a routine at any cost, but most of the time that becomes almost impossible to stick to routine .But we can always try.Thanks for the advice.

• India
19 Jul 08
It all depends on your friends around you ...I have a bunch of friends who are always chatting and keeping themselves relaxed always and also relax me..SO i don t feel a stress right now hope i keep these friends for a while..I guess these things are caused mostly of stress to mind...

• India
19 Jul 08
Yes rather than its the people around you who are main source for your stress and they are the only stress busters you can have ..Thanks for the response..

• India
5 Jan 09
What you have done to relieve yourself of all 'the-day's-stress' is Okay. However, the major thing you could do to relieve yourself of any form of stess is to leave it to the Almighty to resolve or solve it for you. You see, you will be very relieved if you heartfully do so. This is what I always do ... Guess what, the problem is solved according to my satisfaction and everyone is happy around me. Try it; you will not be dissappointed.