Wearing cloth with label...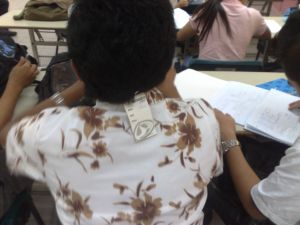 Malaysia
July 16, 2008 10:42am CST
How many of you have experience this or even see this.Yes,look at the picture below.This is what happen today in my place where i found this guy wearing a cloth with the label still on it.I quickly take a shot of it as a prove.Have you ever do things like this?Just wonder do he know bout it or purposely do so....
2 responses

• Nepal
16 Jul 08
you poor fellow, You must have given him new pinch. He probably wanted to have new pinch from you guyz. And he might have wanted to draw the attention to his new shirt. Or may be the reason he might have forgot to. If he is a college guy, then there is a probability that he forgot to take it out from new shirt while he was already late for college. I don't think he willingly let it be there. It's irritating to wear such clothes with labels. I think he didn't noticed it while he was busy and was attended in some other important activities. May also be that someone played prank with him. During school we, friends, use to play lots of pranks with our friends by putting tail by using long papers. LOL

• United States
16 Jul 08
Was he planning on returning it after he wore it? LOL! I would like to think that he did not know. I have done it but not on purpose and it is usually the little stickers that show whether it is small, medium or large.