First the nigerian scam... now the UK lottery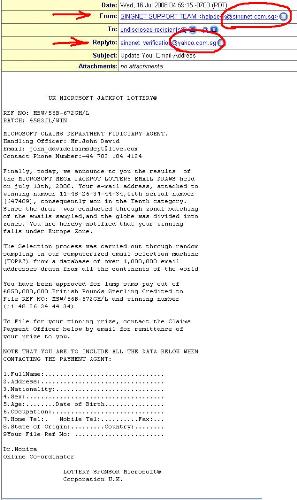 Singapore
July 16, 2008 12:17pm CST
Just as I was talking about the nigerian fake bank emails, I receive this in my mailbox! (refer to other thread: http://www.mylot.com/w/discussions/1598354.aspx ) Another utter rubbish email. Claiming to be my provider helpdesk. But asking me to reply to a yahoo account! Sheez!

Why would a provider of internet service hosting emails require one to reply to a yahoo account? I do hope such a thing will be noticed by people when they are reading such mails. The other dead give away is the way the letter is written. UK lottery. But the winner is selected by Microsoft? Sheez! Another wasted space in my mailbox. Utter rubbish!
4 responses

• India
16 Jul 08
Dear friend, I do have received Nigerian scam and UK lotter and one more the Australian lottery too. I had been fed with Nigerian scam as it has came to me the same initial one for 3 times. I do hope if they could send and type this much I by this time they could have earned at least half amount requested in that scam mails.


• Canada
16 Jul 08
I receive emails like those too. Some times coming from Netherland too. I just don't even open them any more. I delete them right away. Very frustrating !

• India
16 Jul 08
I have received this UK lottery scheme email to my email address. It says that they entered my email address in their database on random and I have won the lottery price which i have to claim by making a call to some officer.

I think its very bu.. sh.. since it is practically ridiculous. They'll make us pay some initial payments to claim out prize and then they can go anywhere with our Money. They're just anonymous people whom we cannot trust. They're just fake emails and never trust them.


• India
16 Jul 08
I am frustrated by the niegrian scam man every day i get tons of emails and lottery winning new but i ignore them that is all bu**ss.We dont need to take care of all those