of the seven wonders which one you like most?

India
6 responses

• India
4 Nov 06
i just love TAJ MAHAL ..........coz the structure itself is just a treat to watch ..........and also coz i like to see the people in live ....coz i don't have any girlfriend ..... oh , sorry ..getting emotional.......

• Australia
17 Dec 06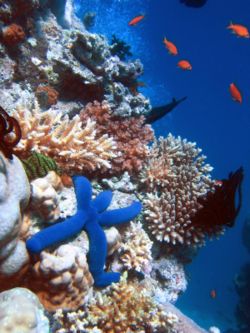 For me it would be the Great Barrier Reef, although there are many other wonders of the world which are also very spectatular. The Great Barrier Reef is a place that attracts a lot of scuba divers plus a variety of boats take tourists out to the Reef, and they can view it through the glass bottom or underwater observatories. The Great Barrier Reef Marine Park has many restrictions on what people are allowed to do in an effort to protect some fish species as well as the Reef itself. The Great Barrier Reef was listed as a world heritage site in 1981, and in an effort to protect the Reef, a new zoning plan came into effect for the entire Marine Park in July 2004. This zoning plan has been widely acclaimed as a new global benchmark for the conservation of marine ecosystems worldwide. This image is of a star fish on the coral of the Great Barrier Reef and is just one of the many colourful life that you can see on and around the Reef.

• India
16 Dec 06
i like the Tajmahal because it is in india.. so i love it and i admire it and because it is the symbol of the love.. so i relly love it..

• Janesville, Wisconsin
14 Dec 06
The Huge water fall one. That one always fasicinated me. I always wanted to sit behind that water fall - DNatureofDTrain