UFC - Silva vs Irvin..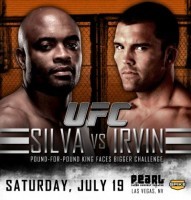 United States
July 20, 2008 1:45am CST
Did anyone see the "main event" What type of main event was that?

How long did that match last? Not even 2 minutes i think. Well i guess its true what they say "one mistake will mess up the whole thing" That was definately a quick main event.

Not what i was hoping to see. I was hoping for it to be longer. I was rooting for irvin but i guess it just wasnt his time to win it.

Did you see the match?What are your thoughts on it?
2 responses

• United States
20 Jul 08
It always makes me sad when a fighter is dominated like that, but at least Irvin got a shot with Silva. He probably didn't belong in the ring with Silva, but I'm sure it won't ruin his career, he was just outclassed. Maybe with more experience and training, he will put up a better fight? And I would definitely watch the rematch!

• United States
24 Jul 08

Yea i noticed that there were some differnces between both guys. Yea i hope one day in the future there is a rematch id love to watch it.


• United States
20 Jul 08
That fight went the way i thought it was going to. While Irvin is a decent fighter he doesnt have the speed that Silva does. While Silva does usually have a longer feeling out process i believe he wanted to make a statement on his first match at 205.